Simon Cowell is, amongst other things, a record company executive, a television and film producer…and a global TV star. Renowned for his sharp eye for talent and candid opinions, Simon Cowell has completely transformed popular culture in the 21st century, through his TV and music interests. Cowell's company, Syco Entertainment, is a world-renowned music, film, and television production company responsible for some of the most successful global music and television franchises. Syco's television assets include the two international TV phenomenon formats: Got Talent and The X Factor.
This year, Syco Music was named the No.1 A&R label in the UK, for both singles and albums. To date, Cowell has worked with artists who have sold more than 350 million records. For his charitable work, Cowell has been awarded Variety International's Humanitarian Award.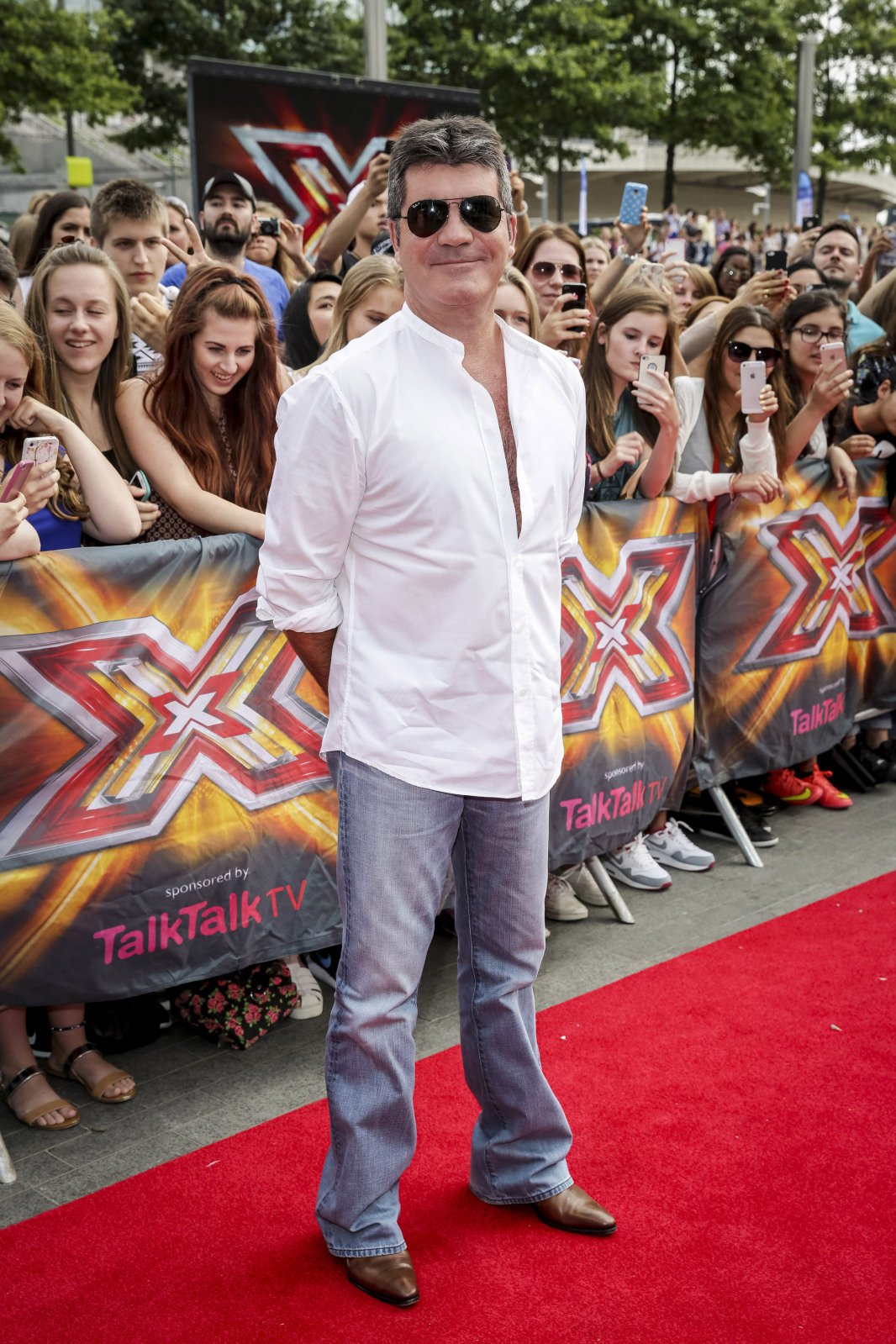 So Simon how does it feel to be back in the UK for this series?
It actually feels really good to be back in the UK. I think in a weird way it's good I've had a break from the show, I've watched the show from a distance and now I feel like I'm back in control again. I like it.
What are you most excited about?
The one thing that always excites me about doing the show here is the fact that we have discovered stars from it in the past. And there's always that feeling when you're on the panel that you're going to find a new star. I don't know who they're going be, where they're going to come from but it's that that excites me the most.
What did you miss most about the show while you were away?
You miss British contestants. I've always thought on these shows, for whatever reason, the best people have come from Britain. You can take people like Leona Lewis or One Direction or Olly Murs, JLS, Ella Henderson, Cher Lloyd, they've all come from the show and gone on to have big careers. So we're
lucky the show does attract people who do want to be big recording artists, rather than wanting to win a singing competition – there is a difference.
What's going to be different about this year?
I think you're going to hear a different kind of singer this year. The show is going to look different in terms of the line up. I've done the small room auditions already, and then we're going back to arenas, which is the real test. I've already seen 5 or 6 people that have got massive potential. Some of these people, when you put them in front of the big crowds, they fall apart. And on the show this year there are a lot of hurdles to overcome. You've got to go from the small room to the arena to the six chair challenge, which I think is a great addition. Then you've got to do the judges' houses visit, then you make it on the live shows. So anyone who gets to the live shows, they've earned their spot.
How competitive are you and the other judges feeling this year?
You don't get competitive until you get your category. At that point, for whatever reason, you almost forget about the artists at that point – it's so much about you winning. Or so much about someone else
not winning – it's about your competitive nature, which is why you put competitive people on the show because if you don't want to win, it's kind of a boring show.
How does it feel to be reunited with Cheryl?
It feels good to be reunited with Cheryl, I'll be honest with you. She's been on good form. It's almost like the last four years disappeared. We just picked it up straight away. She's been fun and annoying, but good to be with.
Cheryl said she came back after a lot of grovelling. What did you say to persuade her to come back?
We had a lot of conversations before Cheryl agreed to come back. But what was interesting, was that once we got past whatever we had to get past, we then started talking about the show and we reminded ourselves of the past series we made which was a great series. It's how we wanted to recapture that again, and make a show which is fun, big and most importantly find a star, or maybe more than one star.
There've been claims you want to have more of the colourful acts like Jedward and Wagner in the show this year, is there any truth in that?
Do you know what, the trouble is on this show there is a massive rumour mill and everything gets distorted. I never wanted Jedward on the show in the first place, and it was Louis who put them
there. I think it's good to have interesting people on the show, I'd rather have someone with personality than a boring person with a good voice. One thing I love about the show is that it does make crazy mistakes. But in the end, the right people normally win. Most of the time.
And we've heard that you've been winding Cheryl up during auditions. Has she tried to get her own back on you?
I've wound her up a lot in the auditions. I mean she's so easy to wind up, like a fish taking the bait. But like I said, she's been on good form, and she's got a good sense of humour. I've always said I find the
audition process hard. And she's found it hard. But for whatever reason she's enjoyed it and we've had a good time.
Is there a particular type of contestant you're looking for this year; a specific genre or category?
I'm not interested in a sob-story, I mean seriously, I'm just so over them. I always say the same thing. I want someone who can become a star in this country, but just as importantly, can become a star in other countries. You want somebody who's different, you don't want a second rate version of someone who's already out there, but you want somebody who's different from anyone else in the charts at the moment. The show's called The X Factor for a reason because you have to have so much to do well from this show. You have to have a great voice, you've got to have personality, you've got to have charisma, and you've got to want to be a star, you've got to have that hunger. And that's what I've
seen over the years with contestants – why certain people don't do well, and why certain people do really well.
You've brought Louis back to the show for his 11th consecutive series. What do you think he brings to the show that nobody else does?
Louis brings madness to the show. I've known Louis for about 15 years, he's a nutcase, and he has a very different view of the world than I do. But that's what I find interesting about Louis; he is an optimist, whereas I can be a bit cynical. But he loves music. He loves doing the show; I mean if he had a tail he'd be wagging it. And the one thing you forget about Louis is that he is a really good manager. I mean he's sold over 100million records – you don't do that with luck, you do it because you're smart. And I think sometimes he tries to hide the fact that he is smart and cunning. Then there are times when I'm sitting there thinking I have no idea why you're sitting here next to me. So that's our relationship.
And what's it like working with Mel, what kind of judge is she?
I wasn't sure whether Mel was going to fit in or not, but within 5 minutes I got her. She brings an incredible energy to the show. She isn't a judge for hire, which a lot of people are nowadays. She loves the show and is really interested in the mentoring aspect of the show, because she did the show in Australia where she did a good job. Plus she's really fun to be around, although I get why she's called Scary!
So Mel B is known for her straight talking approach, as you are, as well. Who do you think contestants have found more intimidating ? 
I don't know if it's a question of whether contestants find me or Mel more intimidating, I think more about who they would like to please – and that's normally me. 
This year you're back in the audition room. What do you prefer – the room or the arenas?
I found the first day a nightmare going back to the small room, because you're so close to the contestant, only 8ft away, I had a real problem about laughing when I shouldn't laugh. I think it's really
intimidating, for the contestant and for us. I think the good thing about the small room is you definitely get to know more about them because they're not playing to a crowd. You get to know more about
their personality, you can probably make a better judgement call. But I like the fact they have to go through the next stage, from the small room into the arena, because you see both sides of them. Some people will shine and some people will fall to pieces.
What's your biggest audition turn off?
I think it's normally a boyband that's been put together by a manager, and told what to wear, what to say, they all come running in and everything they say is scripted, and they pretend to laugh at each other's jokes, I hate that. I'd rather find something much more raw – like we had with One Direction. We had 5 talented guys, we never once said 'wear this, say this, do this' – they had that relationship. That's my most annoying thing – I loathe those people.
The age limit's been lowered to 14 this year. Do you think that someone this young can cope with the pressure of being on the show?
On Britain's Got Talent we've had no age limits, we've had really young people do well on the show. You have to make a judgement call before you put teenagers in front of us, about whether they can cope with it or not. When they come to see us, we can make a pretty good call as to whether we think they're too young or too inexperienced. On the other hand we've had really good 14 / 15 year olds,
who are better and more assured than some of the 30 year olds.
Which artists out there at the moment best sums up The X Factor?
I don't want to sound biased, but I think Ella Henderson is a really good example of how an artist and a show can work really well together, because we could have released her music in 6 months. We waited for two years, and she came 6th on the show. She represents everything that's great about this country, about the show, and how the label can help someone become a big, big star. I'm really proud of what she's achieved, and she's a great ambassador for the show.
The last time you were on the show, you found One Direction, Rebecca Ferguson, Cher Lloyd amongst others, do you think the talent will be as strong this year?
Well when we did the show last time, we had talented people but we also helped talented people do things they weren't expecting. Cheryl did a great job with Cher Lloyd, I did a great job with One Direction, and Cheryl again with Rebecca Ferguson, who I love – she's a great singer. And Danni did a good job with the winner. That was the year we really felt it was competitive and everybody was
trying hard. That points out the show that we devised in the first place – it was meant to help and encourage the artists rather that just sit and criticise people without having a say in what they do. 
'The X Factor' begins this Saturday and Sunday at 8pm on itv in the UK and TV3 in Ireland.