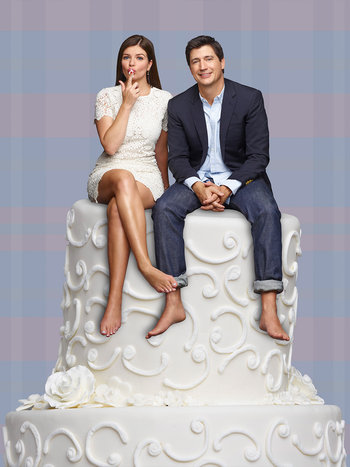 Marry Me is the story of Annie and Jake, played brilliantly by Casey Wilson and Ken Marino, a couple in their early thirties who have been together for six years.  She's desperate to get married and he's weary of commitment.  After returning from a romantic getaway Jake has planned a surprise proposal complete with loved ones waiting in the wings to celebrate, but before he can pop the question Annie goes into full beast mode letting loose on Jake's inability to commit and taking down their friends and family in the process, effectively ruining the proposal she had been waiting her whole life for.  After cleaning up the mess of Annie's hysterical unleashing, the couple decides to hold off on the engagement until they can get it right.  What ensues is a highly entertaining attempt to make amends for the first botched proposal and the collateral damage the pair leave in their wake. 
The chemistry between the two leads, who previously shared the screen in creator David Caspe's Happy Endings, is delightful.  Their opposites attract romance adds a heightened hilarity to the couples story.  The show is chock full of stellar talent, including SNL alum Tim Meadows as one of Annie's dads, and JoBeth Williams as Jake's mom.  Boasting fully developed secondary characters with sure to be equally engaging storylines, Marry Me gives a fresh feel to a seemingly played out genre with quick wit, sidesplitting quips, and relatable situations that left me, like Annie, perpetually caught up in every single moment.  I am so excited to bear witness to the comical complications that Annie and Jake encounter on the road to 'I Do'.
Watch Marry Me Tuesday nights at 9:00pm on NBC.