Actress Zendaya will return to the small screen in an upcoming Disney Channel series entitled K.C. Undercover. Zendaya will play K.C. Cooper, a high school girl who is training to go into her parent's line of work as an undercover spy. In each new episode the family will deal with normal issues, as well as go on missions to save the world.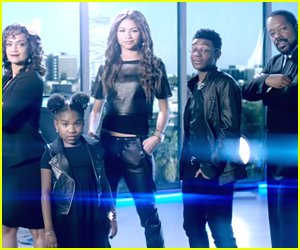 The series is slated to premiere early next year. The first promo of the upcoming series aired during a commercial break during an episode of Disney Channel series Jessie on Novemeber, and it states that Zendaya's new series will premiere in January 2015.
Some other TV series stars will also star in the upcoming series. Kadeem Hardison will play Zendaya father Craig Cooper, and Tammy Townsend will play her mother Kira Cooper. Kamil McFadden and Trinitee Stokes will play K.C.'s younger brother and sister.
This will be Zendaya's first lead role in a TV series since Disney Channel canceled Shake It Up in 2013. Zendaya is currently working on her sophomore album, which is expected to be released sometime in Spring 2015. And if Zendaya fans just can't get enough the young entertainer, they can get a copy of her debut book, Between U and Me: How to Rock Your Tween Years with Style and Confidence, which was released in 2013.
Are you excited to see Zendaya with her own series lead again?