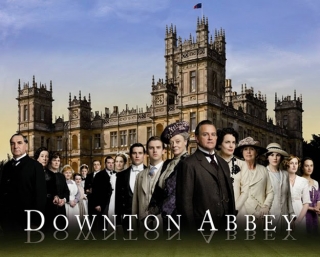 Today I was privileged to attend the first official press screening of the first episode of the final series of Downton Abbey. The show starts where the last series finished with Anna and Bates still facing an uncertain future and a recession meaning the tightening of belts for the Grantham family.
Gareth Neame, Executive Producer said about the final series: "Last night at 7pm we wrapped all of the servants. They shot their last scene. It's an incredibly emotional, moving scene in the very last episode. It was very cleverly scheduled that they had that scene to do and then we clapped them all off the stage. I can tell you that quite a few tears were shed by grown men in the form of butlers and footmen that I never expected to see. I think the final season is very strong and I believe the fans of the show around the world will be happy and satisfied with what happens to our characters."
Maggie Smith, who plays the Dowager Countess, Violet, said about starring on the series: ''I'm just surprised that I got to the end because just before this I'd done about 10 years with Harry Potter. So I felt very old indeed by the time I got to the Dowager. I'm honestly just surprised that I got through it and I'm still here." She also paid tribute to the crew and production team by saying: "It was extraordinary and incredibly reassuring to see these people day after day and know that they were the first people there and they were last people to go. You've no idea how incredibly exhausting that must be. I do not know how it's done, quite honestly. And there they are, all of them, and always in a very good mood, which I can't say for myself."
Asked what she had planned for the future, she said: "I'm going to be lying down. I believe for quite a some time. The other thing I will be doing is watching it. I will get the box set and have a good look. I certainly haven't watched anything that I've done. I have seen some of it. But I want to sit down and look at it all."
Julian Fellowes said about creating and writing the series: "The characters have been so real to me for six years. So I do think you have a little sadness. You do feel rather sorry to say goodbye to these people because I've enjoyed the creation. I'm sorry to see them go. I'm very unlikely to be involved in anything that is as successful again and so, of course, I say goodbye to these golden years with a slight pang. But it seems the right time to go while we're still firing."
Downton Abbey will return next month on ITV and will be shown on PBS in America later in the year.