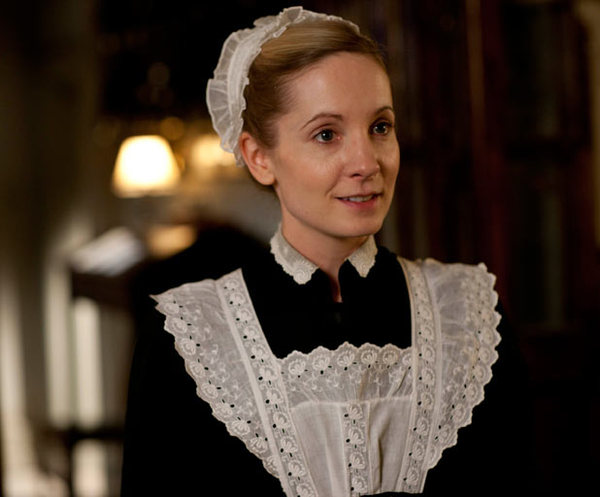 I was lucky enough to attend an official question and answer session with some of the cast members ahead of the final series of Downton Abbey. Award winning, Joanne Froggatt, was one of those who took part. Here are Joanne's thoughts about starring on the series.
With Anna having been through so much turmoil, are you in a way relieved that Downton Abbey is coming to and end?

No, not at all. Anna and Bates have certainly been on quite a rollercoaster ride of emotions but I never imagined when we started, none of us imagined that we'd be here six years later talking about this huge success. And we're all so grateful for that but I also never imagined that Anna would go through so much. So as an actor, as well, I've been extremely fortunate to have such fantastic scenes to play and to have Brendan to play with and Phyllis and Michelle and all the guys that I work really closely with.

Is it a very close community of actors on the show?

Absolutely, we are a true ensemble, Downton is a show that as characters we're all either supporting a scene or leading a scene. We all have our share in both of those roles equally and that's what makes it so nice. I have had absolutely the most amazing support when it is my time to lead a scene or any particular scenes and visa versa, you do it for your fellow actors.

Did you find your last scenes emotional to film?

Yes it was. It was quite a lot of our last days for downstairs characters yesterday, I finished at lunchtime, that was my final scene. So I got away quite lightly,  so I just had my own tears but I think it just developed into everybody in tears by the end of the day. I think I would have been in absolute pieces if I'd been there for that very last moment, it was a wonderful final day, actually. It was all of the things you'd hope it would be, it was happy, sad. It felt like a good time to finish this and we were all doing it together but it's the people that we'll miss.

Do you have anything lined up for the future?

I start a new job on Monday. I'm doing a two-part drama for ITV called Dark Angel and it's a true story about a woman called Mary Ann Cotton, who was the first female serial killer in the Victorian era. So I go from lovely Anna Bates to a poisoner.

Have you kept a memento from the show?

Well, strangely, there's not a great deal of Anna's wardrobe or props I really wanted to take home. It's either a tray or a black dress, so I decided to leave it all where it was.

Has appearing on the show prompted you to investigate any piece of history?

For me, starting out the first series it was very much getting my head around what it meant to be a woman at that time and what it meant to be a working class woman at that time. The lack of choice and the lack of opportunity that I take for granted living in a free society. That's definitely something that has stuck with me throughout the whole series and seeing those slight progressions for women over these six series as we've spanned over this time.