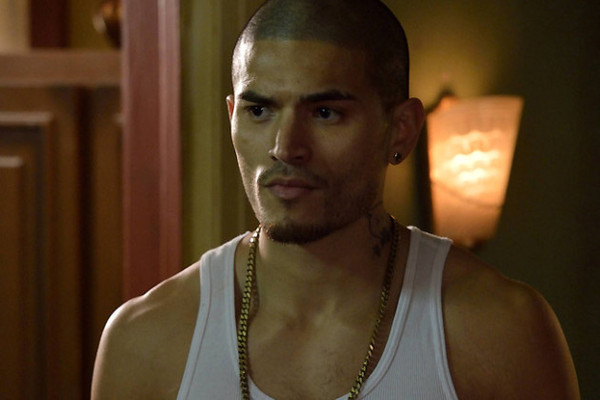 Miguel Gomez talks about the second season of The Strain and reveals what it is like working with vampires. The Strain can be seen on Sunday nights at 10pm on FX. The new series can be seen on Watch in United Kingdom from Wednesday, August 26th at 10pm.
Your character is going to have a major role in season two...
You're going to get to see a lot of different sides to him. He comes from the streets so he has a certain way of carrying himself and that comes in to use a lot more. He tries to find a good team to put around him to face this vampire apocalypse, so we have Angel who comes in, played by Joaquin Cosio, who's a Mexican wrestler that Gus looked up to when he was little. It's a cool collaboration when the two powerhouses meet and are both fighting for a cause.
What attracted you to The Strain in the first place?
Guillermo first and foremost and then Carlton Cuse being the show runner, it was also like two powerhouses coming together. And then the heart of my character, and that they're allowing you to look inside and see who this person is and why. He's not jus t a gangster for no reason, there's purpose behind his actions; he loves his mum and has integrity. I like to think there's a little bit of Gus in everybody. Your circumstances dictate the decisions you make but as long as you're trying to do the right thing - it's important to show a different side to the stereotype.  
Have you had any specific notes from Guillermo?
Sometimes he tells me to add humour to certain moments; it doesn't have to be so serious or angry and can be sarcastic. That freedom is the most impressive thing about the way he directs. He sees  everything, too. Once he said 'Cut David's (Bradley) hair half an inch'. I'm like, how did you know! 
Have you done a lot of physical training for fighting the vampires?
I've trained as a fighter so they let me do a lot of the scenes, like I get strapped in to the harnesses and get thrown and lifted  - I love to feel it. But you have to work really closely with the stunt coordinators and go over the choreography a couple of times. We have to be trained how to hit and swing an axe too, without actually hitting the person you're supposed to!
What's it like working with all the vampires?
I try not to look or interact with the vampires until they say action. The ancients can be sitting there going, 'What's up man, how you doing?' I try not to know what's happening in general because I want to experience it when Gus does. I haven't read the books or read the scripts far in advance either. I want to live that moment of what's happening right now; if you know it changes things. 
Did you know any of the other cast before?
No but I watched House of Cards a couple of months  before I knew  about  The Strain . I fell in love with the season and the characters; I  watched it in three days. And then meeting Corey, I was like 'Oh my God, I just watched you this is crazy! I was rooting for you; I didn't want you to mess up!' And he was like 'Yeah that's not me in real life alright!' I was the ultimate fan when I saw him! 
What's it like working with David Bradley?
He's brilliant; I really admire him and his experience and I pick his brain all the time. When we're filming I'm asking him questions and watching everything he does. If he's reading a book, I'm like what's  he reading? I've learnt a lot just being around him but the main thing I've drawn from him is his patience. When we shot a scene from 8pm until 6am, he was the same at the  beginning as he was at the end, he kept an even keel all the way through. It was really impressive.
Has The Strain raised your profile?
Yes and it shocks me! I'll forget because I don't think about it when I'm out, I'm in a bad mood or whatever and people will say, 'Are you Gus from The Strain?' I'm like what did I do?! But ultimately I have a good day after that and it makes me feel good that the show's successful and that people are watching. I get in to Toronto through  customs a lot easier now, too!
Courtesy of Watch