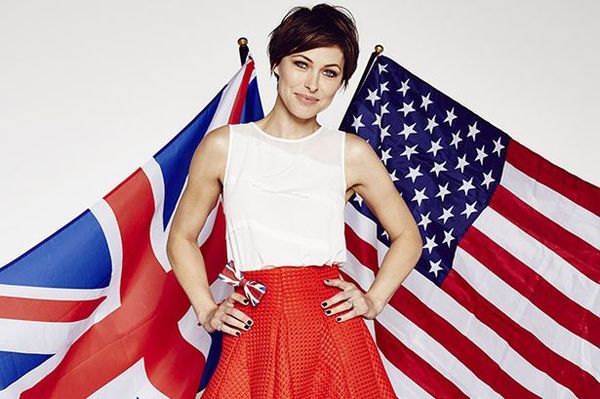 Celebrity Big Brother host, Emma Willis, reveals all about this year's UK vs. USA theme and talks about what she thinks makes a good housemate. Celebrity Big Brother can be seen daily at 9pm on Channel 5.
This year's series is all about UK vs. USA. Do you think it'll get very competitive?
There was such a hoo haa about how many Americans were in last series, that it's both ironic and amusing that this series ended up being UK vs. USA! I think it will be competitive but I am intrigued as to whether the Housemates will play that game and try to get the opposition on side. I love to see if people play the game with each other. Also, genuine friendships do form between people you wouldn't expect. You wouldn't have thought Michelle Visage and Katie Hopkins would be good friends but it happened, so if people make friendships what happens if they are against each other?
Do you think it'll make for a divided House throughout the series?
When you are living in such close proximity for that amount of time, you are going to form bonds even with people that you are meant to be against. People will like each other so that gives it another element to watch out for.
Will it be more tense because of the international face off?
It was almost like UK vs. USA last time with Perez and Katie Hopkins! You never know what is going to happen, but they are being pitted against each other from the off. I imagine it will be tense and you can only hope that it doesn't get too nasty and people have a sense of humour about it! All I want is great television, competitiveness, humour, fun and a bit of grief now and then. A great watch!
Will it be hard for you to stay neutral?
Not from a, 'I'm from team UK' point of view, no, because some of my favourite Housemates have been Americans. I loved Michael Madsen, Speidi, Gary Busey. So for me it's not about the teams. My favourites come from individuals and I think the game element of it will be brilliant.
Do you think the public will get into the patriotic nature of the series?
It will be interesting to see if they agree with the people from their country, or whether they go, 'Actually, I'm going to cheer for the opposition!' You never know.
Which British item would you take in if you were a Housemate?
I would take HP sauce. That is my one thing that I take with me wherever I go. I have to have it on everything. It doesn't get much more British than the Houses of Parliament slapped on the front!
What would you take in to remind the American contestants of home?
It would have to be their flag, or a picture of Barack Obama or something!
If you could choose one dream Housemate, who would you send into the house?
For the UK it would be Eamonn Holmes, and for the US it would be Ellen DeGeneres. The two of them would be amazing! Eamonn I know is a lovely person and Ellen seems like a lovely woman, she is bright, fun and entertaining. It would be the best debate in the world!
Do you think we'll see all the usual stereotypes?
I think Big Brother is the least stereotypical show. We are not known for putting prim and proper people in there, but I'm sure there will be some who are outraged by something that some American Housemate does at some point but that is what makes us want to watch!
What kinds of transatlantic tasks would you like to see them doing?
I would love to see them do just a simple general knowledge quiz based on their country. People are so patriotic and love their country.
Who have been your favourite American Housemates from past series'?
Speidi, without a doubt. They were one of the first that went in there and obviously played the game. There was no mucking about. They were being paid to do a job, they were entertaining, they were causing havoc, they were winding people up and they did it brilliantly to the point where you didn't know that's what they were doing or if that was really them!
Which former CBB Housemate do you think would represent the UK best?
It has to be Cheggers. He is a British institution of a human being. An all-round nice guy who just wants to have fun, entertain, have a laugh, but also, if you push him too far, he will have you for it!
Why do you think UK audiences love to watch the American Housemates so much?
It's a sweeping generalisation but they like to talk and tell you what they're feeling. We love that! We don't want to see lots of celebs go in there who are media trained to the eyeballs and don't want to say anything or act out of turn. The Americans will go in there and be very honest, very open and play the game. They give us what we want and they know how to do it. Whether they wind you up like Perez or whether it's watching Gary Busey making foghorn noises, it is so random, and that is addictively watchable.
The last series of Celebrity Big Brother was intense. What was your stand out moment?
I think the stand out moment has got to be Hilton versus Hopkins. That head to head was fascinating. It was every emotion that you could feel about two human beings in the space of four weeks. It was hugely entertaining and controversial but, at the end, I just needed it to be over!
What are your favourite CBB moments?
Because it's launch night and I am out there on that stage I always think, 'Am I going to have another Gary Busey moment?', when I had to take him up the stairs. There are many things that happen in that House but the one job I am trusted with on launch night is to get them in the House and I couldn't get him up those bloody stairs! If it happens again I will push them up there if I have to!
Courtesy of Channel 5