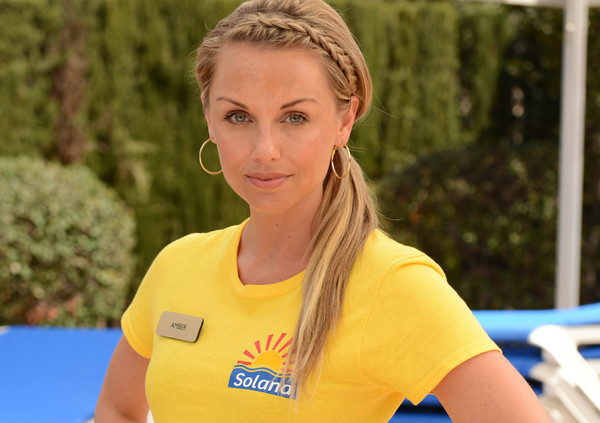 Jessica Ellerby talks about being the new girl on Benidorm which can be seen Monday nights at 9pm on ITV.

What did you think about Amber?
I read the scripts and I just fell in love with Amber, she's a really nice girl. When you have a character like that it's easy to connect with. I often play quite mean parts so it's great to play someone who is actually nice!
What type of person is she?
She's quite girl next door, but she's no nonsense. While she's got a good heart, she doesn't suffer fools. There's a nice scene where she's being chatted up by some lads and she bats them away pretty quickly. She's worked in hotels for a long time so she knows how it goes.
Do you think girls watching the show will like her or hate her?
I really hope they like her. There is that thing of girl in short shorts and very blonde being judged unfairly. She is very much a girls girl, she's down to earth and cares for everyone.
What does Joyce make of her?
I think she's a bit suspicious because she turns up with this posh CV which could come across as a little self congratulating. She's only trying to impress her but it really turns Joyce's nose up. She's also really perky and sparky, I can imagine that might grate on a few people who work at the Solana.
Does Amber have Joyce pegged from the beginning?
I think Amber has everyone pegged. She wouldn't show or judge anyone, but she works out what people are like very quickly, she knows how to deal with them, especially Joyce!
Does Mateo try it on with her?
He's over her like a rash from the minute she turns up. He's so fixated on her she thinks their might be something wrong with him. He's got no chance, he's not her type at all.
We hear she might be attracted to Rob Dawson?
She checks him out over the bar and gives him the once over! As the series goes on there is a real spark between them and he asks her out. He does lie about his age though, she's not a cradle snatcher. She's supposed to be 23 and he's 19, there's not much between them but the younger you are the bigger the age gap seems.
Is she looking for love?
Everyone likes a bit of attention but that's not her main objective. She's there to work.
Les takes Amber under his wing, what's that dynamic like?
It's a case of life imitating art because Tim is amazing to work with and really has looked after me. He's such a lovely man and has very much taken me under his wing. There's a father/daughter relationship between us and that's very much reflected in the script between Amber and Les.
How do you feel about the Benidorm babe of the series?
Benidorm babe? I love that! That actually makes me blush a little bit. It's lovely that people might think that.