A former Secretary of State has joined CBS News as a contributor.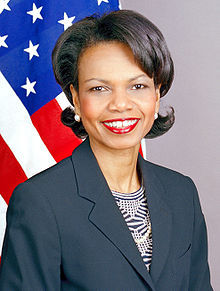 Condoleezza Rice appeared on "Face the Nation" Sunday, when anchor Bob Schieffer announced the news.
"Everybody knows that Condoleezza Rice was President Bush's Secretary of State, but I'm very pleased to announce that she has a new job as of today," Schieffer said. "She is joining CBS News as a contributor, we're honored to have you making your first appearance on CBS here on Face the Nation."
Rice appeared as a member of the panel on Sunday's show.
Rice was the 66th Secretary of State. She was the first female African- American (following Colin Powell) and second woman (after Madeleine Albright) to hold the position. She was National Security Advisor during President George W. Bush's first term. She was the first woman to hold that position.
Rice is currently a professor of Political Science at Stanford University. She served as Provost there from 1993 to 1999.
"The former Secretary of State will use her insight and vast experience to explore issues facing America at home and abroad," as a contributor, the network said in a statement.
No word on when she will begin on the newscast.