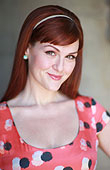 Sara Rue previously appeared on the CW network last season, hosting their reality series Shedding For The Wedding, a title which tells you literally everything you need to know about the show in question. 
But now Deadline are reporting that she will back on the channel in the near future as the creator/star/producer of a multi-camera comedy show.
CW is currently looking to expand their portfolio by creating more half-hour comedies and they have acheived this by signing Rue's show Poseurs.
Poseurs will follow Lucy, played by Sara Rue, a young woman whose life is upended when her fiancee moves out and her from-from-rehab collegiate best friend, Alexandra, moves in. The two of them decide to pose as a lesbian couple and genuinly get married in order to stay in the nice apartment buliding that only allows married tenants.
Rue will write the Warner Bros produced piece, that has received a script commitment and she will also serve as a co-executive producer, while Alan David, Rue's long-time manager will act as the show's producer.