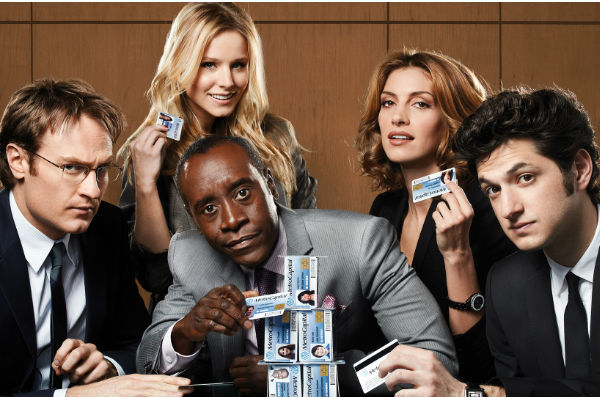 Over its first two seasons, Showtime comedy 'House of Lies' has been raking in critical acclaim like Santa Claus rakes in letters from children. Lead actor Don Cheadle was nominated for two straight Emmy Awards, and has won both a Golden Globe and an NAACP Image Award for his work. Now, the once and future War Machine is preparing to enter an arena that neither he or his co-star Kristen Bell have ever dared tackle before: live improv comedy.
As part of Showtime's building hype campaign for 'House of Lies' third season premiere in January, the network announced today that the show's regular cast (as well as Season 3 guest stars Lauren Lapkus, Ryan Gaul, and Eugene Cordero) will stage what is an essentially a live, completely unscripted 'House of Lies' episode.
The special was taped in front of a live audience at the Upright Citizens Brigade Theater in Los Angeles earlier this month, and will (in a first for Showtime) actually premiere online prior to its first airing on cable. The program will be available to view on Showtime's website, the network's YouTube channel, and 'House of Lies' official Facebook page on Monday, Dec. 30. It will debut on television the following night, Dec. 31, at 10/9c. That should make for a fun way for fans to kick off the new year.
'House of Lies' premieres its 12-episode third season on Sunday, Jan. 12 at 10/9c.