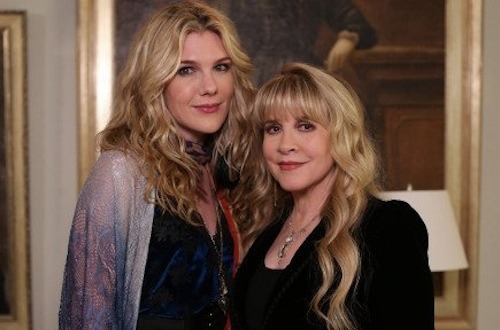 Greetings, horror fans, and welcome back to another round of 'American Horror Story: Coven' teasers! The start of the new year marks the return of our favorite FX horror series. Holiday merriment is a thing of the past, my friends. Bring on the bloodshed and mellon ballers! (Yeah, I went there.)
And while there's still a solid 24 hours before the series' epic return, I was able to watch an early showing of "The Magical Delights of Stevie Nicks" and am DYING to share some teasers with you. From devilish deals to the highly anticipated Stevie Nicks cameo, this episode delivers yet another spot-on performance that's guaranteed to send you into a Stevie Nicks craze for the rest of the week. Stock your iTunes accordingly.
But if spoilers aren't really your cup of witches' brew, I suggest you turn back now while you still can. As for the rest of you, let's grab the Minotaur by the horns and dig in to all the diabolical details below!
-While living at casa de Coven, Marie Laveau receives a devilish visitor who's comes to collect on a yearly bargain they established many years ago. Let's just say it has a very Rumpelstiltskin-type vibe to it...only way darker.
-Cordelia finally learns the truth about Hank and the Witch Hunters Corporation, which leads to a pretty big rift with Fiona. (Though are these two ever really on good terms with each other?)
-Stevie Nicks pays Misty a special visit as a favor to Fiona, which brings out the worst in a very jealous Madison. Suffice to say, things get pretty grave indeed.
-Nan develops another power, but it corrupts her in a way no one would ever suspect.
-Fiona and Marie develop a surprisingly close bond and take the concept of teamwork to a rather disturbing level.
-Stevie Nicks sings not just once, but TWICE during the episode. I won't give away which songs they were, but if you're anything like Fiona, it will bring tears to your eyes.
-Two more lives are lost by the hour's end.
'American Horror Story: Coven' returns on Wednesday, Jan. 8 at 10/9c on FX. Don't miss it!