From its mysterious and action-inclined opening scene, to a finale that finds our heroes fighting against incompetent, greedy enemies, there is something very 'James Bond' –esque about 'Intelligence,' the new CBS thriller that premiered last night. It's not the new gritty Bond, or the old early ones that rode the gravitas of Sean Connery, and not quite to the cool frivolity that was 'Goldeneye.'
No, 'Intelligence' feels the simplistic, cheese of Roger Moore, rife with awkward action, conveniently dumb criminals, and forced sexual tension. But that doesn't mean it's not some mindless fun.
Josh Holloway is our Vaughn, Gabriel Vaughn (you can call him Sawyer if you want), an operative experimented on by a high tech cyber company and employed as a human-computer composite. While his skills aren't specifically identified, he's basically a walking Google search. He has a knack for hastily (though visually dramatically) combing databases, identifying strangers, and something especially cool – recreating a past event and putting himself within it (think 'Minority Report' or 'Iron Man 3.')
Vaughn, who apparently likes to go rogue while also being an incredibly coveted and expensive security toy, needs a body guard. Conveniently for him, and the viewer, the guard comes in the form of the sexy and steely brunette Riley Neal (Meghan Ory), a woman who can rival Holloway's rugged handsomeness.
She is a former secret service agent tapped by the cyber company's tough-as-nails head Lillian Strand (Marg Helgenberger, another one who is easy on the eyes), and while it's Neal's job to protect this asset in Vaughn (even though he does some protecting of her), it's really about pairing up an attractive male lead with an attractive female – and that's all well and good.
So it goes in rather standard fashion, with the pair jabbing at one another while trying to figure out each other's past, and by the end they are already forming a bond that should propel the series and surely involve some romantic interludes. Holloway is full of charm, and is more than deserved of a starring role; Gabriel Vaughn isn't Rick Grimes or Raylan Givens, but he can capture the attention of the viewer for sure.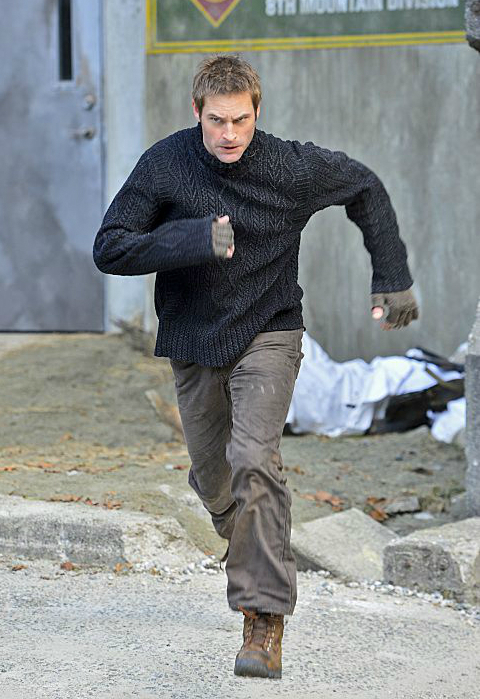 What's sort of surprising about 'Intelligence,' which may be a pleasant accident, is that it is in fact, pretty stripped-down and simplistic –almost dumb. Well, pretty dumb. The opening sequences finds Vaughn escaping imprisonment, and for some reason that involves him doing some ridiculous parkour-like jumps and rolls, scaling a jeep in the middle of an empty road and later diving into the forest. We may ask why, but I'm sure he asks, why not?
On whole, for a show about the high-tech near future, 'Intelligence' lacks imagination. It cares not to invent a future and exploit all the possibilities of a man-computer hybrid, at least not yet. No, instead, Vaughn is used to scroll through DMV records, remotely view the lens of a sniper, and pull up someone's high school transcripts or original hair color upon meeting, kind of like Facebook.
It does seem like 'Intelligence' takes itself more seriously than it should, but for one episode, and for what it is, it's not bad. Holloway does deserve better; he gets to run off some generic lines, like, "I don't need a babysitter," and when talking to Strand, "You've never cared for anyone in your life," but he also gets to knock some heads together and look cool and calm shooting a gun.
The show will succeed because of him. It's well-made, well-executed, and its reach doesn't exceed its grasp, but Holloway is the key. It feels like so many other shows and movies – more 'MacGyver' than 'Almost Human,' with some 'Elementary' (really all Holmes derivations), and hopefully later on 'Rizzoli and Isles' and 'Get Smart' mixed in for good measure. It doesn't need to reinvent anything, just have fun.
Don't think too hard about 'Intelligence.' It doesn't really have any, but that doesn't mean much. Simple, safe, effective, and surely silly, driven by Holloway, this familiar fare should live well enough.