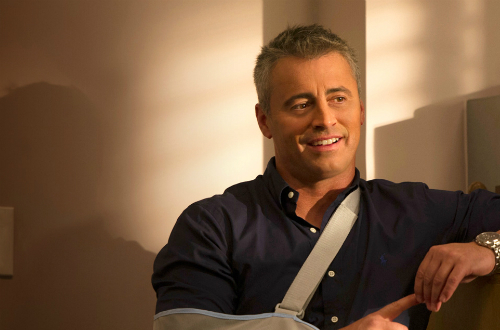 In every instance where there seems to be a favorable, content resolution amongst our flawed yet likeable protagonists, the moment of rejoicing is short-lived, and the same problems resurface alongside brand new ones.
That was the extent of the drama that occurred amid a constant flood of funny jokes on the Season 3 premiere of Showtime's 'Episodes.' The ending of the previous season seemed to indicate more closure, or at least repair, to some of the major issues at hand, but when presented with the opportunity to something better, Matt, Carol, and Beverly were either too unlucky, or too stupid to take advantage.
When we last left the crew, chaos had ensued at studio exec Merc Lapidus' Man of the Year honor. By the end of the evening, Merc loses his job to Carol and loses his wife to Matt. While the two men roll around and fight, the two characters which have been and continue to remain the nicest, most normal people, Beverly and Sean, reunite after their breakup.
Taking place just after these events, 'Episodes,' whose premiere was released on YouTube days prior, is more than happy to remind us that nothing good lasts forever, let alone a day, and that Hollywood is a seedy cesspool of carelessness, deceit, and well, sex.
Carol, who is more and more standing out in this ensemble comedy, is ready for Merc's job, the one she was promised, or at least she thinks she is ready. However, she may not be entirely in control in a business that canned a man while he was accepting an award. Meanwhile, Beverly and Sean are back together – but what of what happened while they were apart?
"There is a huge difference between omitting and lying," Carol tells an advice-seeking Beverly over lunch. "That said, I also believe in lying." It's one of the most hilarious conversations in the premiere, and once again so perfectly divides Hollywood with the rest of the world. Beverly, one half the Brit pair thrust from England to L.A., strives for honesty in her life, and seeks forgiveness for mistakes. Carol meanwhile thinks it best not to bother people with things they don't know or don't need to know.
Their dialogue is paralleled by that of Matt and Sean, who continue to maintain an underrated charming friendship. Matt needs help apologizing to his ex-wife, so instead of being honest, he has Sean write something heartfelt for him on his behalf. Sean crafts a lovely and heartfelt apology that Matt ascribes for himself, but also once again shows the earnestness that Sean (and Beverly) possess – he is really saying it to her, though she'll never hear.
Of course, there's plenty of humor too; Matt takes a great jab at Disneyland.
It is Matt's later moment that is most staggering, as he is forced to deal with the repercussions of sleeping with his stalker, an act that has put him in jeopardy of losing his kids.
We are casually informed by two police officers, who also happen to be big fans, just why Matt was pulled over driving while chatting on the speaker phone to his ex-wife.
Matt was drunk, something that wasn't set up and comes as a surprise, and what's more, he was driving with his kids in the back – the kids his ex-wife is trying to keep him from seeing because he's not a good father!
Drunk driving is one of those few things that really isn't that funny and is hard to make a joke of, especially with kids involved. The writers aren't making light of this whatsoever, and the bizarre scene that unfolds in the station has some humor between Matt and the guards as they talk about 'Friends,' but also this undertone of discomfort.
The show long ago stopped being parody – and maybe that only existed in the idea of the show before it premiered. The LeBlanc character is simply that – a character. He has become funnier and a precarious balance of loveable and despicable across two series, and it's none more evident from that scene; he's complex.
His growth, or lack thereof, will be most interesting to watch, but the emergence of Carol and her newfound situation promise dramatic situations as well. Merc was a great character in his pompousness, but it seems perhaps a new version will be appearing soon. The sharp wit was there throughout the premiere, and 'Episodes' remains hysterical. More importantly, though, it's evolving and proving most compelling.
'Episodes' airs on Sundays at 10:30/9:30c on Showtime. You can watch the Season 3 premiere below.