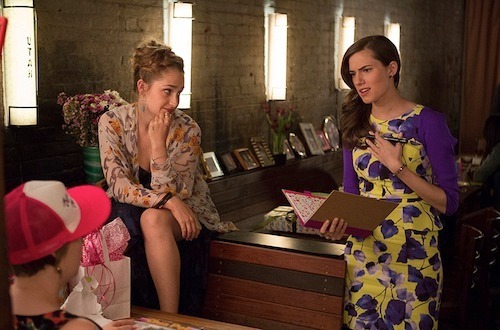 Greetings 'Girls' fans! Now that we have two episodes of Season 3 under our belt — courtesy of Sunday's back-to-back premiere — it's time to once again delve into the world of chaos and friendship we know as this show. And though we'll only get one hearty helping of the series next week, it's one that's definitely worth talking about.
I was lucky enough to catch the upcoming episode titled, "She Said OK" earlier this week and have many little teaser goodies to share. Family (and friend) reunions…a birthday party…a random music video — 'Girls' pulls out all the stops this week and then some.
But if you prefer to avoid spoilers like the plague, then I suggest you turn around while you still can. For those of you still with me and want a little taste of what's to come for Hannah & co., then let's dig in!
-Viewers will get the chance to meet Adam's sister, Caroline, who drops by for a visit and seems to have a few crazy issues of her own. Let's just say you can definitely tell she and Adam are related.
-Charlie may be out of the picture, but that doesn't stop him from releasing a music video of Marnie out into the YouTube-verse. Just wait until you hear what she's singing.
-Hannah's 25th birthday party leads to quite a few wild antics. There's dancing. There's drinking. There's biting? (Gotta love this show!) But the best part is that it gives all four girls the chance to be reunited once more.
-Speaking of Hannah's birthday, Adam gives his girlfriend a very unique gift for the occasion that you need to see to believe.
-The magic word of the evening is: banana. (Trust me, it will all make sense later.)
'Girls' airs on Sundays at 10/9c on HBO.