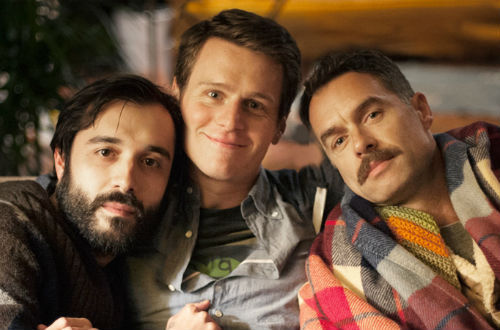 On Sunday, Jan. 19 HBO is debuting its latest series titled 'Looking.' You may have heard of it, I mean, after all, it does star the amazingly talented actor and singer Jonathan Groff ('Glee,' 'Boss'). However, the show is so much more than Groff's goodness, and I would know since I recently screened the first four episodes of the freshman season.
The series revolves around three gay friends (Groff as Patrick, Murray Bartlett as Dom and Frankie J. Alvarez as Agustín) living in San Francisco, who are finding their way in life, trying to reach their professional goals, and, of course, looking for love. Yes, it might sound like your typical drama/comedy, but I encourage TV enthusiasts to give it a chance.
Why? Not only does 'Looking' intertwine three separate, but united, stories, all while showcasing humor (which can be hysterically funny, at times), but the dramedy illustrates realness without sugarcoating the struggles each character endures. It provides a refreshing view into the lives of gay men today.
Like the storylines and dialogue, the music is another great element of the the show. 'Looking' has the perfect way of integrating the right song at the right moment. I can't forget to mention how each episode ends unexpectedly, which some may describe as odd, or rather, unusual. However, the episodes end on sort of a spontaneous note, which leaves you satisfied, but also wanting more.
If that's not enough of a reason to tune in. Then, let's talk about the true success of the show: the actors. These three men go above and beyond for their characters and portray them in such a unique way. It's really hard to imagine anyone else playing them (especially for two lesser-known actors: Bartlett and Alvarez).
For a better feel, here's a small breakdown and preview of each character.
Jonathan Groff: Patrick aka Patty
Patrick's a 29-year-old video game designer struggling to date, especially after his ex's engagement. Despite his consistent use of OKCupid and his attempts at cruising, Patty doesn't give up and tries his hardest to date and find the one. His dating situations speak to all of us who've had plenty of awkward moments in the dating world. Not to worry, because he gets out unscathed (usually) and makes said dating situations funny. He becomes that much more lovable.
Murray Bartlett: Dom
At 39, Dom is the oldest of the group. He's a waiter looking to open up his own restaurant, but finds such a business venture is easier said than done. A lot of networking needs to be done, but not the type of networking he's used to. Yes, Dom loves sex and isn't afraid to admit it. As a man who's struggling with his upcoming 40th birthday and finding love, Dom's relatable, because he uses sex as a distraction and a way to make him feel better about his everyday issues.
Frankie J. Alvarez: Agustín
Unlike Patrick and Dom, 31-year-old Agustín, who's an artist and vegetarian, is in a serious relationship with long-term boyfriend Frank (O.T. Fagbenle). As the two prepare to make their relationship that much more serious and official, Agustín becomes (as a lot of people do about long-term commitments) apprehensive about being with one man, becoming domestic and giving up his city life.
In addition to Groff, Bartlett and Alvarez, you can expect Scott Bakula, Russell Tovey, Lauren Weedman, Andrew Law and Raúl Castillo to recur.
If this doesn't sound like your kind of TV, I urge you to at least take a gander.
'Looking' premieres Sunday, Jan. 19 at 10:30/11:30c on HBO.