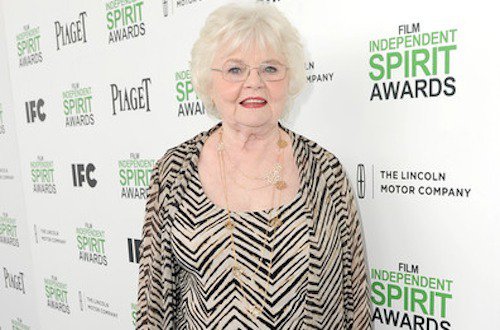 In addition to all of the other news we've been reporting, here are a few entertainment and TV headlines you might have missed:
-Oscar-nominated actress June Squibb has recently signed on to guest star in the second season of Lifetime's 'Devious Maids.' She will play the character of Velma, the mother of Genevieve Delatour (Susan Lucci) in a two episode arc.
-Kelly Brook has been tapped as one of the leads in NBC's upcoming comedy pilot 'One Big Happy,' Deadline has exclusively learned. The actress will take on the role of Prudence — the woman who Luke (Nick Zano) impulsively meets and marries just as his gay best friend Lizzy (Elisha Cuthbert) gets pregnant with their artificially inseminated child. Additionally, actor Chris Williams will also be joining the cast, playing Roy, a former college football player married to Leisha (Rebecca Corry), who misses the freedom of his party lifestyle.
-Andrea Parker ('Desperate Housewives') has been recruited to NBC's single-camera comedy pilot 'Feed Me,' which centers around a dysfunctional family bound by love and the restaurant they run together. Parker will play Amanda, the angry, spiteful and vengeful ex-wife of John (Ed Quinn), who's been dragging out their divorce for five years and is determined to make his life miserable.
-'Cougar Town's Ryan Devlin has landed a recurring role on The CW's drama pilot 'Jane The Virgin.' The series will focus on Jane (Gina Rodriguez), a hardworking religious girl who, due to a series of outrageous events, is accidentally artificially inseminated. Devlin has been cast to play Andre — the trouble-maker brother of Jane's boyfriend, who's holding on to some secrets.
-Lorenzo Semple Jr., who created the popular 'Batman' television series, passed away Friday morning at the age of 91. The series, which starred Adam West as the Dark Knight and Burt Ward as Robin, quickly became a hit during its 1966 debut and remained one of Semple's most prized works. "I think 'Batman' was the best thing I ever wrote, including those big movies," Semple told the Archive of American Television back in 2011. "As a whole work, it came out the way that I wanted it to and I was excited by it."
-Though we're already aware of Isaiah Washington's impending return to ABC's 'Grey's Anatomy' as Dr. Preston Burke, yesterday we were given actual photo evidence of the event. Ellen Pompeo posted the first picture of the actor back on set (via Instagram) with the caption, "BURKE IS BACK." So all seems to be forgiven. Check out the photo below and see for yourself: