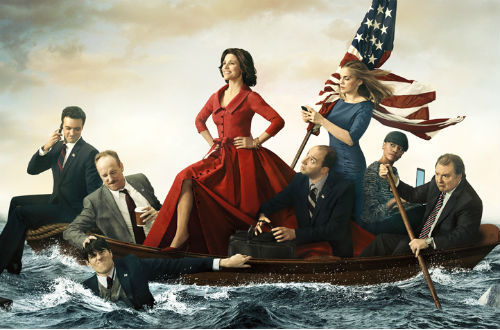 While it may not be getting as much attention as another show returning to air the same night on the same network, the HBO comedy 'Veep' is still as reliably funny, bitingly smart, and wickedly profane as ever. And like 'Game of Thrones,' as suggested by a recent trailer, no one is safe.
Well, it is a comedy after all, so maybe the characters are safe, but it doesn't mean that things won't be shook up. Season 2 ended with the revelation that the president will not seek reelection, and thus, as Season 3 begins, it looks like Selina Meyer (Julia Louis-Dreyfus) will throw her sarcastic, vulgar, idealistic hat into the ring.
Whether or not her staff is capable of undertaking such an effort is a whole other matter.
A lesser comedy may not have ventured into such a potentially show-altering territory (though I suppose a campaign and election can be dragged out across a few interminable long seasons even if Meyer may not be 'Veep' forever), but there is indeed a potential restructuring taking place.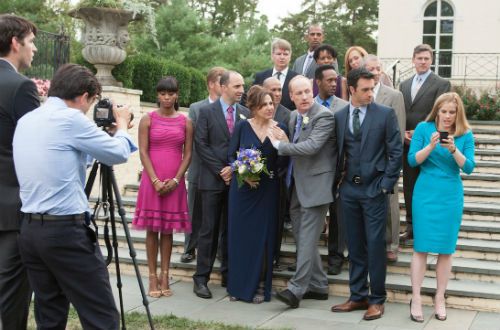 It's a clever move though that allows for 'Veep,' which finds humor from both the ennui of the office of the vice presidency as well as the acerbic cockiness of a bunch of staffers, to expand in scope and opportunity. The narrative of this third campaign certainly makes for a bit more drama and hysterical scenarios – what's funnier than putting Selina and company out into the world where they can meet the public? ("I've met some people, OK?" Meyer once remarked. "Real people, and I gotta tell you, a lot of them are f***ing idiots.")
So Selina begins to travel, slowly, carefully, curiously campaigning, but not really officially, yet. She goes on a book tour in Iowa, a ride along with the Coast Guard, and takes a devastatingly funny trip to a Google-like tech company. Season 3 opens with Madame Vice President growing increasingly tired and running out of folksy sayings to spout off as she signs copies of her book – the mockingly titled "Some New Beginnings," for scores of potential caucus voters.
Having continually lampooned gridlock and egotism in Washington, D.C., 'Veep' gets to send up Silicon Valley in one episode – coincidentally something that HBO's new comedy, 'Silicon Valley,' will try to do every Sunday leading into 'Veep.' Once again, the series from Armanda Iannucci lambastes without being annoying; these are self-absorbed worlds being mocked, and at tech company Clovis, where people play ping pong, watches take orders, and a young CEO has a weird sounding-name, there is endless comedy (it's the best episode of the first half of Season 3).
What the new season also allows for is ambition. As Selina is running, she needs a campaign manager, among others to lead the way, and should she win….well, it seems it's never too soon to jockey for cushy, important West Wing jobs.
So Dan and Amy compete to run the show, Gary grapples with the desire to do something other than carry the VP's bag forever, and Jonah, the wonderful antagonist that goes to the line of being insufferable without going over, looks to rise through the gossip blogosphere. The election also means though that any screw up, say, analyzing abortion (a divisive, sensitive topic cleverly addressed) using fruit, or pleasuring oneself while at the office, could lead to an early dismissal.
Above all, 'Veep' still possesses the sharpest, fiercest, and most riotous of insults. Vulgar and irresistibly funny, 'Veep's signature barbs come naturally and suddenly and force your attention lest you miss a line. When not poking fun at political and corporate worlds, the V.P. staffers are more than happy to rip into each other, making every moment of 'Veep' wonderfully entertaining.
--
 'Veep' returns for Season 3 on Sunday, April 6 at 10:3/9:30c on HBO.