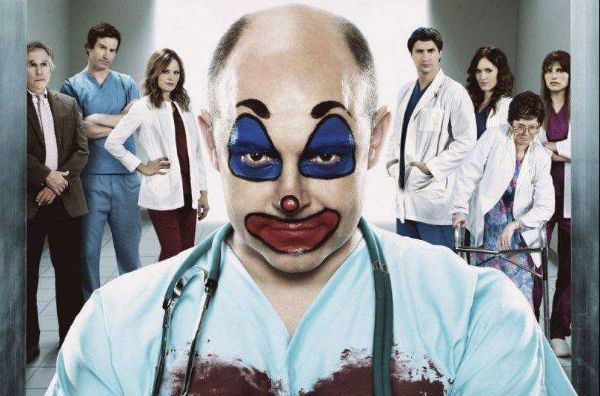 Joining 'Hot in Cleveland' in the "unsurprising comedy renewal" category, Adult Swim has opted to pick-up a sixth season of its Emmy-winning medical satire 'Childrens Hospital.' The news was first broken by The Hollywood Reporter.
RELATED NEWS: Rob Corddry to Guest Star on 'Trophy Wife'
Starring 'The Daily Show' alum Rob Corddry as bizarre physician Dr. Blake Downs, who performs his duties while wearing clown make-up and surgical scrubs that appear to be covered in blood, 'Childrens Hospital' began life as a 2008 web series, before transitioning to television in 2010. In 2012 and 2013, 'Childrens' won two Primetime Emmy awards in the excessively titled category of Outstanding Special Class - Short-format Live-Action Entertainment Program. Try saying that three times fast.
Despite Season 5 of 'Childrens Hospital' ending back in October, Season 6 is not planned to premiere until next year. This represents the longest break between seasons in the show's history, but is likely attributable to the fact that almost every regular cast member only moonlights on 'Hospital' between more high profile gigs. Getting a cast that includes names like Malin Akerman, Lake Bell, Ken Marino, Rob Huebel, Megan Mullally, and Henry Winkler onto the same set at the same time can be difficult.
RELATED NEWS: 'Children's Hospital' Duo Tapped to Write FOX Pilot
Speaking of 'Childrens Hospital's all-star cast, none of those aforementioned regulars (outside of creator/producer/star Corddry) have yet signed on the dotted line to appear in Season 6, although most if not all of them eventually agreeing to new deals is considered much more likely than not.
'Childrens Hospital' Season 6 enters production this summer and will premiere sometime in 2015.