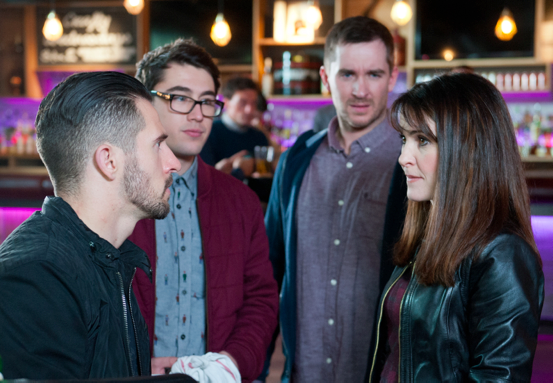 I was lucky enough to attend this year's Emmerdale Christmas party where producer Kate Oates talked about new character Emma Barton and what impact her arrival will have on the rest of the Barton family.
Can you tell us more about the history of Emma?

We know that Emma and James had a slightly rocky marriage, we know that they married really young, that they had Pete and Ross and during that time James met his brother John's girlfriend Moira, he fell for her really hard and basically Emma saw that happening and was very jealous, rightly so.

What we'll learn about Emma is that maybe that wasn't the best way of dealing with her, because she does have vulnerabilities and she does have a tendency to maybe let things brew a little bit and let things fester. That's why she left and that's why that marriage broke up. There is another secret within that which we'll be exposing later.

When she arrives obviously there are some things which can't be kept secret anymore, so the fact that James did have a one night stand with Moira, the fact that Adam was the product of that, there are certain things that can not be hidden any longer.

Initially she comes to try and make contact with her sons and when Finn finds her he's always wondered what the missing link in his history is, he's always wondered what his mum is like and why she really left.

What sort of impact will her return have on her children?

Pete is the eldest one, so he saw some of the behaviours that Emma was maybe displaying. We do know that she'd had Finn by the time that she left. There's maybe a bit of a troubled past with Emma there, maybe she suffered a bit of depression. Obviously there was the whole thing going on with her and James, and these things exacerbate and build I guess. Pete will have seen a side to his mum.

Finn has a view of his mum where she is a dream image I guess. Because he's never met her, she can be whatever he wants in his own head. Pete has a much more serious view of hr because he remembers the things, the arguments and maybe any dark goings-on from that household. He is also his dad's number one boy, he decided quite young that he was going to work on the family and fill a role I guess that Emma left.

Whilst Emma has been away has she started a new family with anyone else?

No, that's one of the reasons why she is so resentful. She doesn't trust herself in new relationships, she is hanging onto the past whilst not actually being able to access it. It means that when she is coming back into these guys lives, it's all on them. She doesn't have another husband, she doesn't have any other kids to think about, it's all very very much this family she has left behind. Although she's not been preserved in aspic, she's gone off and lived a life, done a job and done other things. In terms of family and heartfelt relationships, these guys are it, so look out!

Will Emma want to gain revenge on Moira?

Wouldn't you? I think she will want revenge on Moira. I think her feelings are really complicated because her love for James was absolutely real. It is one of the reasons she let herself be driven to this kind of heading point. Her feelings for him are a pendulum between anger and her memories of what they once had. Moira is definitely the scarlet woman and Adam is the embodiment of that, so he might be in a certain firing line.
How does James feel about her sudden return?
I think James feels a lot of guilt for the way that he treated Emma. When she returns, he knows that he has a long way to go to make up some lost ground with her.
Will Emma's sudden arrival impact on the relationship between James and Chas?

They are really strong, Chas and James, and what I like about their relationship is that I really don't think James loves Moira at all anymore. When he first came in, he really had this torch for her an actually when he discovered that he was Adam's father, that torch was firmly blown out because he realised that she really lied to him and messed up his life and that she had got away scot-free and he had this really awful life. He is with Chas now and they are pretty solid.

Chas has been through a lot. Although she is strong and feisty and will always fight she is also easily damaged easily hurt and there is a soft centre under that tough exterior. So I think if Emma wants to prod it, it may be to her cost or it may be something that damages James's relationship with Chas. It just depends where she sets her sights first, I guess.
Emmerdale airs Monday to Friday on ITV at 7pm with an extra episode airing at 8pm on Thursdays.