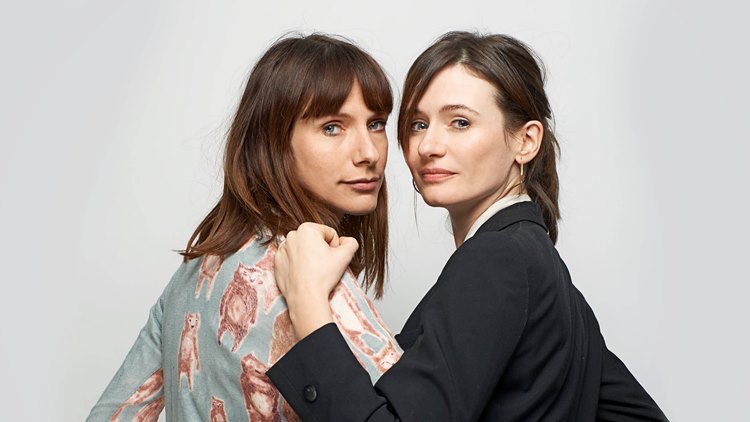 Doll & Em, the comedy series starring Emily Mortimer (HBO's "The Newsroom") and Dolly Wells ("Bridget Jones's Diary"), will return to Sky Living for a second series next year with a number of high profile names joining the cast of the critically acclaimed show. Guest stars on the six-episode second series, currently in production in New York, include Ewan McGregor, Olivia Wilde, Evan Rachel Wood, and Mikhail Baryshnikov.
Evan Rachel Wood commented: "They [Mortimer and Wells] are some of the loveliest and most hilarious people I have ever worked with. Being on the show has been an absolute joy."
The new series will again be directed by Azazel Jacobs and produced by Alessandro Nivola with Kevin Comer under Nivola and Mortimer's King Bee label.  BAFTA winner Andrew Eaton will executive produce along with Lucy Lumsden, the show's commissioner for Sky.  Written by and starring real-life best friends Mortimer and Wells "Doll & Em" is an original commission for Sky and demonstrates its continued commitment to investing in original British content. Series two will be shown on HBO in the US following the British premiere.
The first series explored what happens when a Hollywood actress hires her childhood friend as a personal assistant while making a film in Los Angeles. A bittersweet, intimate portrait of female friendship, the series followed their relationship through unexpected complications and surprising twists.
 
In series 2, the friends write an off-Broadway play together in an effort to do something creative on an equal footing. They manage to hoodwink Evan Rachel Wood and Olivia Wilde into appearing in it, with Wood playing Doll and Wilde playing Em. 
Meanwhile, having packed up her life in London, Doll has moved in to Em's Brooklyn basement, only to find that living in the lap of her friend's family is surprisingly lonely.
The play is jeopardized when Em gets cast in a Hollywood action thriller opposite Ewan McGregor and threatens to abandon their passion project.  Chaos ensues as Doll & Em start rewriting the play to reflect their growing frustration with each other and Wilde and Wood begin to lose faith in the production.
Will they resolve their differences and restore balance to their friendship by curtain call, or will things finally fall apart forever for the best friends?