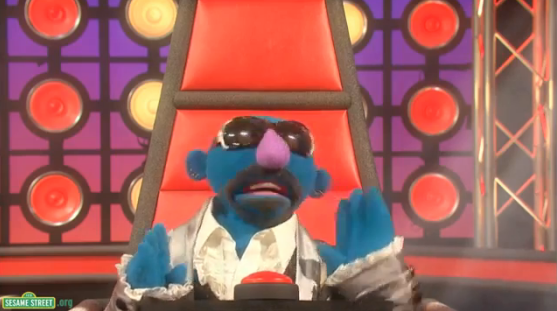 It's a bit of a strange world we live in when Sesame Street is able to so effectively parody our culture to an audience mostly consisting of children under 6 years old. But the puppet-starring series occasionally provides us with a strange moment of pop-culture satire, which is stranger still when you consider that the majority of its audience isn't even familiar with the subject of the jokes. Maybe these moments of levity are intended for the bored stay-at-home parents watching the series with their toddlers. Or maybe Sesame Street understands that these clips will be more successful on the internet than they ever will be on the television.
Perhaps that's why a promo clip has been released for the show's new season featuring a parody of NBC's reality singing competition series The Voice. The clip, taken from an episode that will air this fall, features puppet versions of host Carson Daly, Christina Aguilera, Blake Shelton, and Cee-Lo Green (pictured). Adam Levine is conspicuously absent, but since this clip doesn't feature the entire sequence, maybe he shows up later. 
The video, although perhaps a year or so too late, provides some chuckleworthy commentary about The Voice.
For example, Daly introduces The Voice by saying, "Finally, a singing competition that's entirely about your voice, no distractions and no cheap gimmicks." He's then promptly hit by the show's trademark spinning chairs. (And again, later.) The physical comedy here would probably make a toddler cackle, but parents might just crack a grin as well.
The clip cuts out just as the skit gets to its "lesson" -- the fact that you can make noise with other parts of your body than your voice (case in point: tap-dancing).
You can check out the clip here. What do you think? Is this clip funny for both kids and adults, or do you think it'll go way over the heads of its young audience?
Sesame Street season 43 will premiere September 24 on PBS.