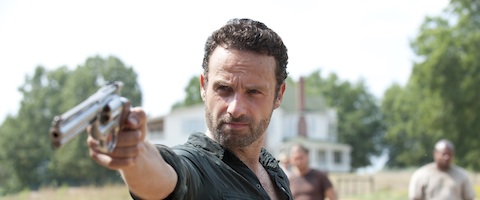 Last night's The Walking Dead mid-season finale "Pretty Much Dead Already" delivered one hell of a shocking twist during its climax, as the dust settled around the massacre at Hershel's barn and one final walker shambled out into the harsh light of day: Sophia Peletier herself. All season Rick and the other survivors have spent time looking for Carol's poor daughter, having disappeared in the chaos of season two premiere "What Lies Ahead," only to end in tragedy as we learn the girl had resided among the zombies in Hershel's barn all along.
Really, we shouldn't be TOO surprised by Sophia's grisly fate for a variety of reasons. For one, The Walking Dead's second season has been light on its character deaths to date, and with "Pretty Much Dead Already" acting as a mid-season finale and the barn looming as a threat, we all knew things would hit the fan with last night's episode.
Not only that, but child actors prove notoriously difficult to keep continuity on a season to season basis, young Madison Lintz having shot up in height significantly between the first and second season, with no signs of stopping. The same fate befell Malcolm David Kelley (Walt) of LOST, who similarly disappeared from the proceedings to cover his noticeable shift in age.
Additionally, AMC's The Walking Dead has a tendency to line up its more expendable characters for the chopping block, first with Otis earlier in the season, and now with Sophia, two characters from the comics who even after 91 issues never added much to the story. So what does this mean for AMC's The Walking Dead going forward?
If we use the comics as a guide, Sophia's death will surely drive her mother Carol (Melissa McBride) to the edge, somewhat mirroring her comic counterpart's gradual descent into madness. Not only that, but Sophia's death raises significant questions about Hershel and his family, who may or may not have been aware their barn contained a young female zombie suspiciously close to the group's descriptions of the young girl they were searching for.
What will Hershel do with his barn full of zombified friends, family and neighbors mercilessly gunned down by Rick's group? More pressingly, what will become of the survivors now that their search for the missing Sophia has ended in tragedy, especially her mother Carol, or the noble Daryl Dixon?
Tune in for the answers to these and other questions when The Walking Dead resumes its second season on AMC February 12th with episode 8, "Nebraska."