Will Smith surprised talk show host Graham Norton and "Fresh Prince of Bel Air" fans alike when he set up an impromptu reunion last night.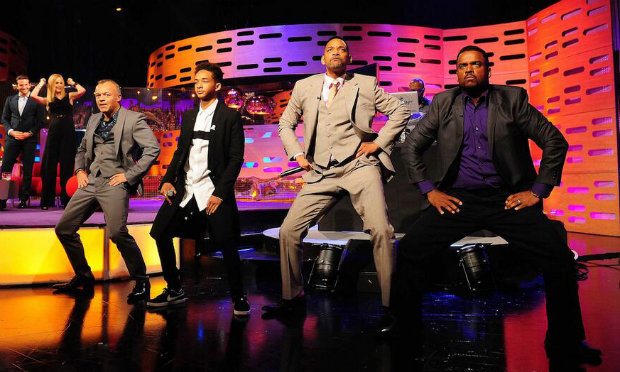 During an appearance with son Jaden Smith to promote the pair's summer film "After Earth," the rap star turned television star turned film star indulged in a father-son live performance. Smith first provided beatbox support while his son improvised a serviceable rap, but it wasn't until the star of "Independence Day" and "Men In Black" took center stage that the fireworks really flew.
On an earlier appearance on "The Graham Norton Show," the host managed to prompt Smith to give a live performance of the hit show's opening song, delighting audiences live and on the web as the clip proceeded to go viral with millions of hits. Smith's encore performance saw DJ Jazzy Jeff join in, which went over huge with the live crowd (just try not to laugh at Heather Graham spazzing about with her hair in her face).
Then, Jazzy Jeff queued up Tom Jones 'It's Not Unusual' bringing out the biggest surprise of all: Carlton Banks himself, Alfonso Ribeiro, super slick dance moves and all. Ah, the Carlton Dance, how I've missed you.
Finally, the talk show host joined the trio on stage to show off their dance moves to the tune of Sugarhill Gang's "Apache (Jump On It)." That's how late night is done, folks.
Check out the performance below and let us know what you think!