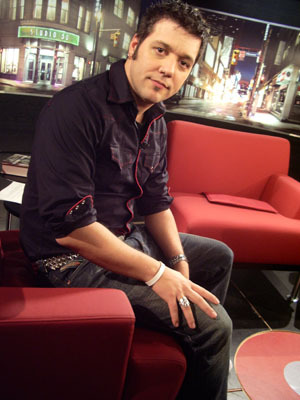 Canadian television and radio host George Stroumboulopoulos has landed a new gig south of the border.
He will be hosting a new interview series on CNN called 'Stroumboulopoulos,' as part of Jeff Zucker's efforts to reshape the network and turn it into a premiere location for both news and must-see programming.
Ten episodes have been ordered and they will all air this summer. The show is scheduled to premiere tonight after the season finale of Anthony Bourdain's 'Parts Unknown.'
It will then slide to its regular time slot of Friday nights at 11 p.m. starting next Friday, June 14. Each episode will be one-hour long and will feature three interviews.
The Toronto-based Stroumboulopoulos is excited to be filming in Los Angeles, his home away from home.
"I have sort of a life in Los Angeles," he said. "I also think Los Angeles is kind of built for people from the northeast. Because of the weather we have, we have that kind of rusty blade in our personalities. And you bring that sort of jagged edge to Los Angeles and it is kind of fun."
This move has been some time in the making, as CNN first reached out to him about a year ago, even before Zucker took over as president of CNN Worldwide.
This series is not expected to interfere at all with his CBC interview program 'George Stroumboulopoulos Tonight,' as he has summers off from that program. In fact, all of the interviews for the entire season are scheduled to be taped next week.
"Nobody in America knows me," he said. "Guys like me aren't on CNN normally, so it's kind of a test for them."
Expect these interviews to differ from what you normally see on networks, as Stroumboulopoulos likes to play it by ear.
"I don't have a real plan when I do an interview," he said. "I have some themes that I want to hit. But I don't have a set list of questions that I knock off. I just start the conversation and we see where it goes."
Is this a good move for CNN?
Here he is interviewing Quentin Tarantino to give you a taste of his interviewing style.