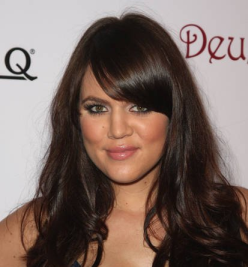 Khloe Kardashian, the socialite who is not as famous as Kim, yet slightly more famous than Kourtney has been slapped with a lawsuit after she allegedly slapped a transgender woman in a nightclub.
The incident occured two years ago, outside a Hollywood nightclub, Playhouse on the 5th December 2009. Chantal Spears has declared that Khloe hit her "in and about her body," according to legal documents obtained by TMZ.com that caused her serious injuries. Which probably explains why it has taken her so long to seek damages.
Apparantly the incident was incited after Spears told Kardashian's husband, basketball star, Lamar Odom that "he was too young to be married," causing Khloe to erupt into a volley of physical abuse.
Khloe and the L.A Lakers star have been married since September 2009 and the family have yet to comment.