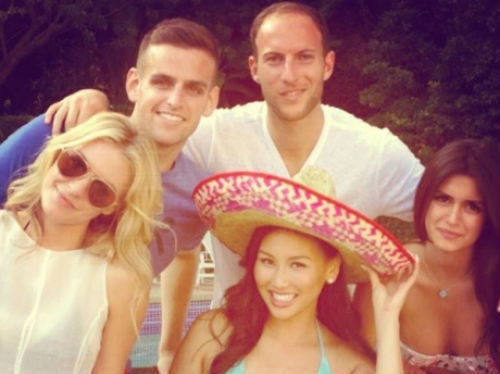 The New Year will bring with it a new unscripted reality show, as E! has ordered eight episodes of the aptly-named, 'Rich Kids of Beverly Hills.'
Five outgoing and fabulously wealthy 20-somethings will be the stars of another entry into this sort of extreme cultural reality niche that chronicles lavish lives and dramatic personas. It looks to fall somewhere in between 'Keeping up with the Kardashians' and 'The Real Housewives of…' well, wherever, with a little bit of 'The Bling Ring' thrown in for good measure.
The three young women (Dorothy Wang, Morgan Stewart, and Roxy Sowlaty) and two gents (Brendan Fitzpatrick and Jonny Drubel) are the fortunate offspring of some very rich and powerful So Cal moguls, worth millions and in the case of Wang, billions.
While unassociated with the popular Tumblr 'Rich Kids of Instagram,' the show looks to have a very big social media aspect to it. With the announcement, the five stars are promoting their Instragram and Twitter handles in conjunction with the show.
On Twitter, Wang described herself as 'Funemployed and FABULUXE!' while Sowlaty loves 'anything that sparkles' and tweets random thoughts to her 21,000-plus followers such as, 'I just love when my boobs get huge,' and 'I don't do public beaches.'
While those two are single, Stewart and Fitzpatrick are dating, and Drubel has described himself as 'boy crazy.' More information about these five opportunistic and excitable stars can be found on Gossip Cop as you get ready to watch (or perhaps avoid) the series premiere set for January 2014.