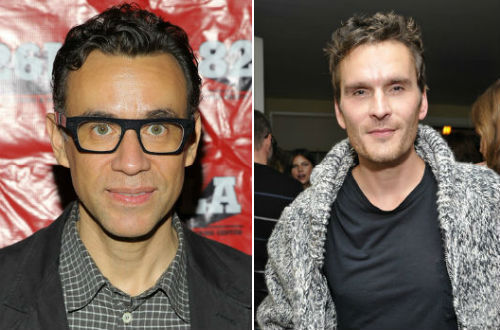 Showtime's hit award-winning comedy starring Don Cheadle and Kristen Bell is expanding its cast by adding comedian Fred Armisen and actor Balthazar Getty as Season 3 guest stars.
Armisen, most popular for his stint on 'Saturday Night Live' and 'Portlandia,' is set to play neurotic meal-replacement manufacturer owner Vincent. As for Getty, who is widely known for playing Tommy Walker on 'Brothers & Sisters' and Thomas Grace on 'Alias,' he'll portray a wealthy hedge fund owner. Armisen and Getty are both set for one episode apiece.
More on Getty's character, it seems he knows Marissa ('Happy Endings' Eliza Coupe), who is described as a wild-child Internet company head and heir to a wealthy media fam. Coupe is set to recur throughout Season 3.
If that isn't enough guest stars for 'House of Lies,' Mekhi Phifer ('ER') has been cast as August aka a powerful businessman wanting to help Cheadle's character, Marty, with his empire. Rapper T.I. is also scheduled to appear in multiple episodes as August's childhood friend Lukas. They are also both co-owners of a clothing company.
This season isn't slacking on the guest stars and talent. What do you think about all of these additions?
You can catch the Season 3 premiere on Sunday, Jan. 12 at 10/9c on Showtime.