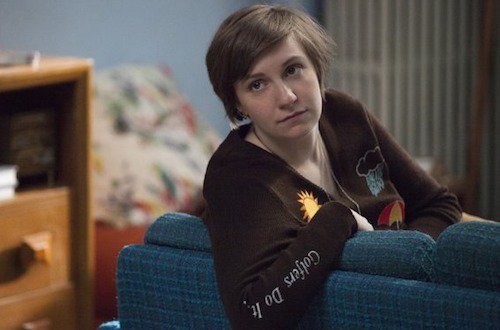 The 'Girls' Season 3 premiere is less than a week away, allowing fans to once again delve into the lives of Hannah, Marnie, Jessa, and Shoshanna as they continue to almost get it kind of together. After all, life in the big city may not always be easy, but it's absolutely never boring — which is a pretty accurate reflection of the show itself.
I was lucky enough to watch the special back-to-back premiere episodes "Females Only" and "Truth or Dare" in advance, and I am more than happy to provide a few teasers of what to expect from our favorite NYC girls. As always, I will make sure not to give too much of the plot away, however, if hearing about any kind of spoilers isn't really your thing, then this is where we part ways. As for the rest of you, let's dig in!
"Females Only"
-Adam gets an earful from a former flame, which I think even Hannah would agree that it's something he had coming.
-Rita Wilson drops in to fuss over Marnie and encourage her to get her life together in this post-Charlie world. As you can imagine, that's easier said than done.
-Jessa is in rehab and things are not going well, especially after she bonds with a fellow group member in a very inappropriate and risqué way. Classic Jessa.
-Hannah's writing job is progressing nicely and her OCD seems to be under control. Meanwhile, Shoshanna is still the best and is enjoying playing the field.
-In a rare moment of genuine sweetness, Adam opens up to Hannah's friends, providing insight into a part of his past.
"Truth or Dare"
-Adam, Hannah, and Shoshanna go on a road trip together, which leads to deep talks, random walks in the woods, and a good old-fashioned Maroon 5 sing-off. Because why not?
-Shoshanna and Adam get some decent on-screen time together this episode, which I've discovered is the best thing ever. More of this please!
-Adam experiences his very first Truth or Dare game with the girls and it's pretty hilarious.
-Hannah gives Shoshanna a glimpse into Jessa's past during a heartfelt conversation right next to a vending machine — a place where now I'm convinced all important girl talks should take place.
-Hannah and Jessa are reunited and it is equal parts adorable and heartwarming.
'Girls' kicks off its third season with back-to-back episodes on Sunday, Jan. 12 at 10/9c on HBO.