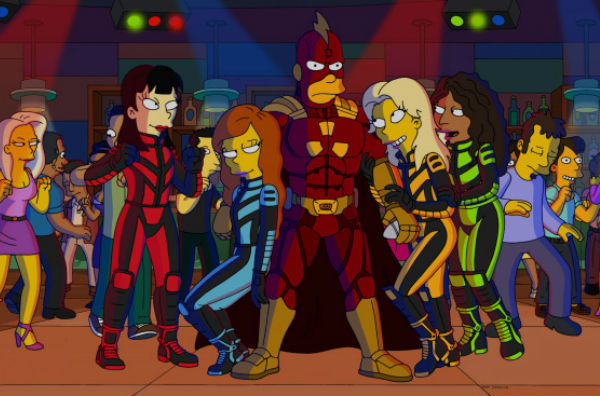 NBC won Saturday, while FOX took Sunday.
FOX's Sunday night NFL game drew a monster-sized 15.1 rating, elevating the Animation Domination block along with it. 'The Simpsons' rocketed up over a full point to a season high of 4.6. 'Bob's Burgers' rose half a point to a 2.9. 'Family Guy' tied for the smallest FOX rise, bumping up a tenth to a 3.1. 'American Dad' also climbed up a tenth, posting a 2.5.
'America's Funniest Home Videos' rose two tenths to a 1.6, a season high for the program. A 'Bachelor' preview special earned a 1.8 at 9 p.m. 'Revenge' jumped up a healthy three tenths to a 1.8, one of its best numbers of the season. The only ABC program not to increase was 'Betrayal' which continued its march to cancellation by dropping to a new low of 0.7.
A two-hour Dateline drew a 1.3 for NBC. A 'Best of Late Night with Jimmy Fallon' retrospective special pulled down a 1.9. As is the usual case, lack of an NFL lead-in meant a huge drop for '60 Minutes.' The veteran news magazine fell almost a whole point to a 1.3. 'The Good Wife' dipped two tenths to a 1.4. 'The Mentalist' also decreased two tenths, garnering a 1.6.
Key: Broadcast Network - Show Name - 18-49 Rating - 18-49 Share - Total Viewers In Millions
Saturday
8PM
NBC - NFL Football - 9.8 - 28 - 30.09
ABC - Over the Hedge - 0.7 - 2 - 2.67
FOX - Almost Human (R) - 0.3 - 1 - 1.70
CBS - How I Met Your Mother (R) - 0.3 - 1 - 1.57
8:30PM
CBS - The Crazy Ones (R) - 0.4 - 1 - 1.66
9PM
CBS - NCIS: Los Angeles (R) - 0.4 - 1 - 2.73
FOX - Bones (R) - 0.4 - 1 - 1.63
10PM
CBS - 48 Hours (N) - 0.7 - 2 - 4.75
ABC - Marvel's Agents of S.H.I.E.L.D. (R) - 0.6 - 2 - 2.29
_____________________________________________________________________________________
Sunday
7PM
FOX - NFL Football - 15.1 - 42 - 41.51
ABC - America's Funniest Home Videos (N) - 1.6 - 4 - 6.80
CBS - 60 Minutes (N) - 1.3 - 3 - 7.41
NBC - Dateline (N) - 1.3 - 3 - 5.90
8PM
FOX - The Simpsons (N) - 4.6 - 11 - 12.04
ABC - The Bachelor: Countdown to Juan Pablo - 1.8 - 4 - 6.32
CBS - Elementary (R) - 1.0 - 2 - 6.75
8:30PM
FOX - Bob's Burgers (N) - 2.9 - 7 - 6.35
9PM
FOX - Family Guy (N) - 3.1 - 7 - 5.76
NBC - The Best of Late Night With Jimmy Fallon - 1.9 - 5 - 5.71
ABC - Revenge (N) - 1.8 - 4 - 6.69
CBS - The Good Wife (N) - 1.4 - 3 - 9.24
9:30PM
FOX - American Dad (N) - 2.5 - 6 - 5.03
10PM
CBS - The Mentalist (N) - 1.6 - 4 - 9.93
ABC - Betrayal (N) - 0.7 - 2 - 3.38
Source: Nielsen Media Research