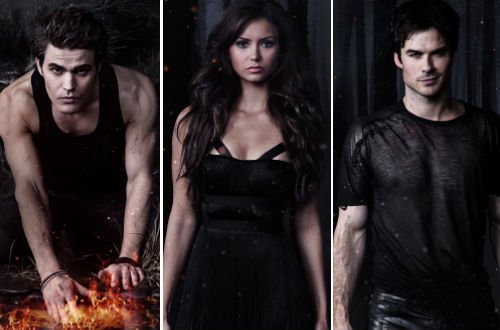 In honor of 'The Vampire Diaries' 100th episode that airs this Thursday, your Weekly Fang Girls (Kelly and Allyson) have decided to recognize this bloody good show with our favorite moments -- so far -- from the hit supernatural CW series.
From complex love triangles to intriguing storylines (not to mention all the shirtlessness), this show knows just how to suck us in week after week and still leave us thirsty for more. So let's all raise a blood bag and take a moment to celebrate the glory that is this show. For a series about the undead, you sure couldn't be more alive. Here's to another 100 more!
Warning: spoilers are ahead. So, if you want to avoid any and all scoop, then disappear as quick as Klaus on a mission to drain Elena of her blood.
Season 1
Allyson: Season 1, Episode 12 "Unpleasantville"
The first season of 'TVD,' like every other season, poor Matt suffered some tough losses. Not only was his sister, Vicki, turned into a vampire and then killed, but he was basically left to fend for himself, thanks to his worthless mother. So, when I see a scene that puts a smile on Matt's face and fills his heart with love, I just can't help myself. In Season 1, that scene was when he kissed Caroline for the very first time. After the '50s dance at their high school, not only did Matt stop the car in the middle of the road, but he jumped out, ran over to Caroline, and kissed the crap out of her. Matt's a man after my own heart. Let's just hope this current season brings Matt more love and more storylines!


Kelly: Season 1, Episode 19 "Miss Mystic Falls"
Okay, so I'll admit it. I'm a HUGE Delena fan and have been from the very beginning. Why? Because of moments like this. When Damon and Elena danced together during the Miss Mystic Falls contest, it was the first real moment where they both connected on more than just a friendship level. Yes, she was still in love with Stefan at the time, but that's what made the way she was looking at Damon (and he at her) feel so wrong and yet so right all at the same time. To me, the best kind of love is the type that sneaks up on you when you least expect it. And during this moment, sparks certainly started to fly.


Season 2
Allyson: Season 2, Episode 18 "The Last Dance"
Alaric? Check. Klaus? Check. Another high school dance? Check. Klaus and Alaric all in one? Check. Surely, it doesn't get better than that, right? Actually, yes, it does! During this '60s-themed high school dance (who doesn't love a good decade themed dance?), Klaus possessed Alaric, which meant another dance gone bad. Even though our dear Alaric had an Original vampire/werewolf/hybrid in his body, I was able to enjoy Matt Davis exude hot, evilness and show off those amazing dance skills I always knew he had. I guess you could say I have a weakness for the bad boy, especially when he's in the form of Alaric and possesses the spirit of Klaus. It just wouldn't be 'The Vampire Diaries' without a good boy going bad, even if it isn't by choice.


Kelly: Season 2, Episode 8 "Rose"
Not to beat an undead horse or anything, but it's hard to picture this season without remembering Damon's heart-wrenching moment of vulnerability when he finally told Elena that he loved her…only to compel her to forget it the very next moment. A true testament to loving someone is being able to let them go if you believe it's what's best for them, and that's exactly what Damon did. I mean, Elena would HAVE to be compelled if she was expected to remain with Stefan. Nobody would be able to look into those smoldering eyes and say no if they could remember this. And that one single tear? So good and beautifully done. Just see for yourself. Warning: massive amounts of swooning may occur.


Season 3
Allyson: Season 3, Episode 20 "Do Not Go Gentle"
Now, don't get me wrong, I never (and I mean NEVER) wanted to bid Alaric farewell. Every time I even think about it, the tears start forming (I continue to hold onto hope that the series will bring him back), but Alaric's first death scene was one of the most beautiful and moving moments throughout 'TVD' history. In addition to Elena and Jeremy's gut-wrenching goodbyes to their teacher/mentor/father figure, the moment that continues to hit me right in the heart is when Alaric watches all of his friends standing peacefully in the woods with candles. For about a minute, not one word is spoken, as The Fray's "Be Still" plays in the background. Talk about a perfect attempt at a send-off. Warning: this scene will make you cry -- and I mean an ugly cry.


Kelly: Season 3, Episode 11 "Our Town"
So the major consensus in Mystic Falls is that Klaus is a big, Original jerk. Which, fair enough, he's unnecessarily killed an insane amount of people in his day, so I get it. Plus, the whole constantly staking your family for years on end just isn't really cool. HOWEVER, I never love Klaus more than when he's spending time with Caroline and it all began with this moment when Klaus decides to save her life with his cure-all blood for werewolf bites. Granted, it was his fault that she was on the brink of death in the first place (and on her birthday!), but this surprisingly tender moment proved that even the most powerful vampire can, at times, have a heart. Though they're on separate shows now I'm still rooting for these two. Klaroline forever!


Season 4
Allyson: Season 4, Episode 23 "Graduation"
I could easily sum up this moment in one word: Klaroline. However, any chance I get to go on and on about my favorite "couple" I seize it like a vamp desperate for blood. At the end of Season 4, not only did Klaus come to Caroline's rescue (that man sure knows how to put a graduation cap to good use), but he uttered, with that brilliant accent, one of the most memorable lines of the series: "He's your first love. I intend to be your last, however long it takes." Who doesn't want to hear a sexy, British hybrid say that? Don't get me wrong, I adore Tyler, but Klaus and Caroline have a special connection that will soon enough become more than just the sexual and romantic tension hanging in the supernatural air of Mystic Falls.


Kelly: Season 4, Episode 9 "O Come, All Ye Faithful"
Call me a masochist if you'd like, but love storylines aside, nothing beats watching a vampire act insanely vampire-y. (This is a vampire-based show, after all!) After learning about Tyler's attempt at a hybrid rebellion, Klaus retaliated the best way he knew how: by straight up murdering all 12 of the converted hybrids. If Klaus is good at one thing, it's knowing how to kill with gusto and he did not disappoint here. Say what you will about the guy, but this vamp is badass. Of course, he then went on to kill Tyler's mother, Carol Lockwood, which was a lot less fun to watch. But this scene just goes to show how you should never mess with an Original.


Season 5
Allyson: Season 5, Episode 7 "Death and the Maiden"
Not only has this season made me venture over to the dark side that was Silas, but it made me appreciate the amazing talent that is Paul Wesley. It's hard to select just one moment that Silas made me smile, laugh and hope that he would become a permanent fixture of 'TVD.' Well, after narrowing it down, the bus stop scene won the prize. It doesn't get better than Silas sitting at a bus stop, talking to a couple about fickle love and showing his true bewitching colors. Paul Wesley + playing a villain + witty one-liners = the most wonderful thing to ever happen to the series.


Kelly: Season 5, Episode 10 "Fifty Shades of Grayson"
As if Katherine and Stefan's steamy hook-up wasn't good enough, the writers had to top it by putting in a hilarious morning-after scene. You don't need to be human to feel completely awkward after sleeping with someone, as Katherine more than proves when she stumbles away, trying to hide the fact that she's losing her hair. And then getting Matt to help her stay fit? Adorable! Where can I sign up for this workout class? Technically, these two moments serve as completely different scenes, but to me they're significantly linked. Katherine's determination to try and remain healthy is a direct result of her little late-night rendezvous with Stefan, proving that underneath that previous 500-year vampire exterior, she's still just a girl trying to look good for a boy. Vampires: they're just like us!


Don't forget to tune in to 'TVD's 100th episode Thursday at 8/7c on The CW.