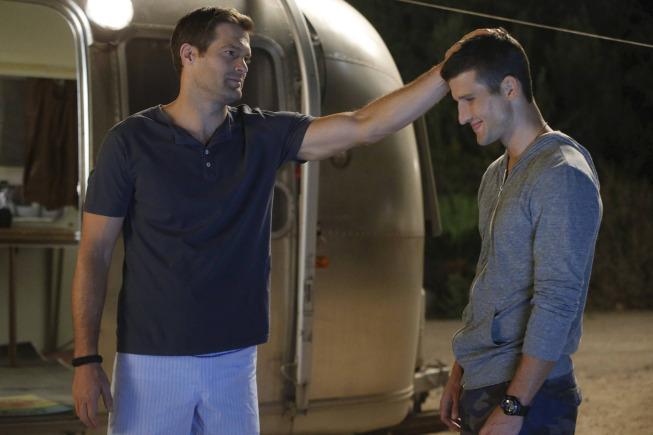 ABC won the 18-49 demo race, while a night of CBS reruns drew more total viewers.
'Last Man Standing' matched last week's 1.4, and remains very likely to get another season. Lead-out 'The Neighbors' dropped slightly, earning a 0.8. 'Shark Tank' just keeps topping itself, setting another new season high of 2.2, and easily winning the night. '20/20' also rose to a season high, garnering a 1.9. That represents the highest rating for the veteran news program since March of 2012.
'Bones' continues to make its mark on Friday nights, rising three tenths to a 1.8. To put things in perspective, that's higher than what the heavily hyped premiere of 'Rake' drew after 'American Idol' on Thursday. FOX's decision to have 'Enlisted' and 'Raising Hope swap timeslots paid off in a big way. 'Enlisted' shot up four tenths to a 1.0, while 'Hope' rose to a 0.8. 'Hope' is still likely done after this season, but the fact that 'Enlisted' rose that much is a terrific sign for its second season prospects.
Over on the Peacock, 'Dateline' dropped a smidge to a 1.4. 'Grimm' remains steady, matching last week's 1.5, and maintaining its status as a shoe-in for renewal. 'Dracula' rose back up to a 1.0, its highest rating in many weeks. I'm still leaning toward the Count being canceled, but I figured that 'Hannibal' would get the ax last year too. Sometimes NBC just defies prediction. Finally, 'The Carrie Diaries' dipped to a 0.3 for The CW.
Key: Broadcast Network - Show Name - 18-49 Rating - 18-49 Share - Total Viewers In Millions
8PM
FOX - Bones (N) - 1.8 - 6 - 7.49
NBC - Dateline (N) - 1.4 - 4 - 7.29
ABC - Last Man Standing (N) - 1.4 - 4 - 6.34
CBS - Undercover Boss (R) - 1.2 - 4 - 6.37
CW -  The Carrie Diaries (N) - 0.3 - 1 - 0.90
8:30PM
ABC - The Neighbors (N) - 0.8 - 2 - 3.79
9PM
ABC - Shark Tank (N) - 2.2 - 6 - 8.18
NBC - Grimm (N) - 1.5 - 5 - 5.88
CBS - Hawaii Five-0 (R) - 1.0 - 3 - 8.12
FOX - Enlisted (N) - 1.0 - 3 - 3.23
CW - Supernatural (R) - 0.2 - 1 - 0.64
9:30PM
FOX - Raising Hope (N) - 0.8 - 2 - 2.35
10PM
ABC - 20/20 (N) - 1.9 - 6 - 8.29
CBS - Blue Bloods (R) - 1.0 - 3 - 9.88
NBC - Dracula (N) - 1.0 - 3 - 3.04
Source: Nielsen Media Research