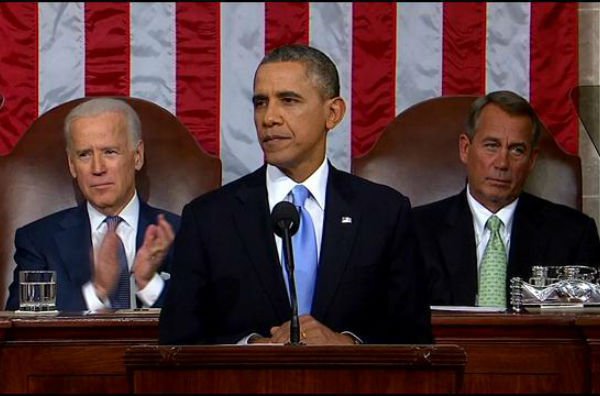 NBC won the 18-49 demo battle, while CBS drew the most total viewers.
'The Biggest Loser' succeeded in losing the two tenths it gained last week, falling right back to its old season low of 1.7. 'Dads' matched last week's 1.5, and I'm wondering if maybe FOX regrets being so quick to drop the ax on it.
Despite being up against the 'State of the Union' speech, The CW's numbers remained consistent. 'The Originals' dropped ever so slightly to a still good 1.0, while 'Supernatural' actually managed to rise back up to its previous season high of 1.2.
Speaking of the President's 'SOTU' speech, it drew a paltry 33 million viewers, the smallest audience for the annual event since Bill Clinton delivered his final address as President on Jan. 27, 2000. Just over 20 million of those viewers tuned in on the big four broadcast networks, with the rest watching on cable channels like CNN, MSNBC, and FOX News.
Key: Broadcast Network - Show Name - 18-49 Rating - 18-49 Share - Total Viewers In Millions
8PM
NBC - The Biggest Loser (N) - 1.7 - 5 - 6.56
CBS - NCIS (R) - 1.5 - 4 - 11.74
FOX - Dads (N) - 1.5 - 4 - 3.96
ABC - Marvel's Agents of S.H.I.E.L.D. (R) - 1.0 - 3 - 3.79
CW - The Originals (N) - 1.0 - 3 - 2.32
8:30PM
FOX - Brooklyn Nine-Nine (R) - 1.2 - 3 - 3.35
9PM
NBC - 2014 State of the Union - 1.4 - 4 - 5.57
CBS - 2014 State of the Union - 1.3 - 3 - 7.43
CW - Supernatural (N) - 1.2 - 3 - 2.76
ABC - 2014 State of the Union - 1.1 - 3 - 4.89
FOX - 2014 State of the Union - 1.0 - 3 - 2.83
Source: Nielsen Media Research