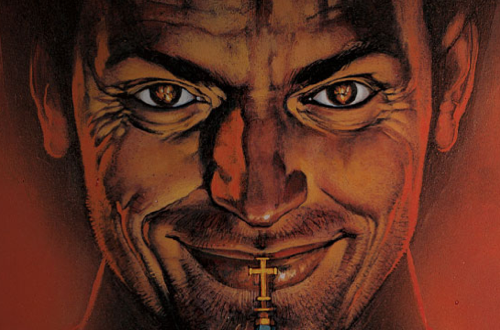 The dynamic comedy duo will be doing some preachin' for AMC.
Seth Rogen and Evan Goldberg will take on writing and producing duties to bring the acclaimed Vertigo series to life. This is a departure from their body of irreverent films such as 'Superbad,' 'Green Hornet,' and last summer's 'This Is The End.'
The news comes after a lengthy gestation period, and a false start in development at HBO a few years back. As quoted in The Hollywood Reporter, Rogen and Goldberg are pretty psyched: 'This is amazing! We've tried for seven years to work on 'Preacher' and we're so psyched AMC is finally letting us. It is our favorite comic of all time, and we're going to do everything we can to do it right. Humperdoo!'
Sam Catlin, previously a co-executive producer on AMC's well-loved 'Breaking Bad,' will serve as showrunner for the series.
Originally created in the '90s by writer Garth Ennis and artist Steve Dillon, the comic follows the journey of Preacher Jesse Custer, who is possessed by a supernatural creature called Genesis that destroys his congregation. He then sets out on a journey across the United States in search of God, who has abandoned heaven, and is accompanied by ex-girlfriend Tulip and Irish vampire Cassidy. Sounds like a fun road-trip.
Joining the likes of the network's zombie mega-hit 'The Walking Dead,' Vertigo's 'Preacher' is just the latest in a frenzy of comic book adaptations for the small screen. Now we'll wait and see how many members of the Apatow-pack will be making appearances – my money is on James Franco for Jesse.