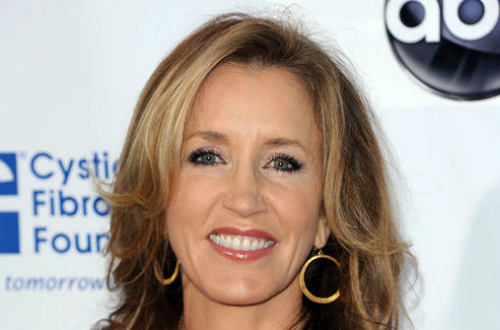 What was speculation yesterday has now become fact, as Felicity Huffman has signed on to star in Oscar Award-winning screenwriter John Ridley's new drama.
Just a day after it was announced that Timothy Hutton was cast as the male lead and Penelope Ann Miller would also help round out the ensemble, Huffman has closed a deal to star in the forthcoming 'American Crime.'
The series, created by Ridley, who is coming off an Academy Award victory for penning Steve McQueen's '12 Years a Slave,' centers on a racially-charged murder and the subsequent trial. The drama will tell the stories from various perspectives of those involved.
Huffman will portray Barb Skokie, the ex-wife of Hutton's former gambling addict, and a character about whom much more has already been revealed. She is described as stoic, even when her son Matt is murdered. Skokie raised her two sons alone in public housing while her husband was gambling, and is resentful of the fact that she is a single white woman in an area populated by African Americans.
Barb is determined to seek justice for her son's murder.
The deal means that Huffman will once again return to ABC, where she rose to fame on the critically-acclaimed series 'Sports Night.' Okay, perhaps it was the lengthier run on 'Desperate Housewives' that garnered Huffman more fame, but she certainly excelled on the Aaron Sorkin dramedy even if the network couldn't work with it.
Nevertheless, she will co-star alongside Hutton in the pilot, which will be written and directed by Ridley.