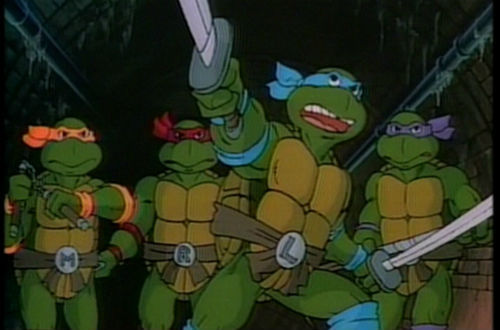 Turtle Power! Fans who grew up watching the 1980s cartoon series 'Teenage Mutant Ninja Turtles' are in for a treat tastier than a slice from one of Michelangelo's pizzas. The original voice cast is set to reunite for an hourlong special on Nickelodeon. 
Cam Clarke (Leonardo), Rob Paulsen (Raphael), Barry Gordon (Donatello), and Townsend Coleman (Michelangelo) are all set to reprise their roles on the latest installment of the series that currently runs on the kid-friendly network. The green dudes will reunite on Friday's episode, entitled "Wormquake."
The reunion isn't the only totally tubular thing that is happening this year when it comes to the popular teenage turtles. In news that will make fans of the show feel really old, the heroes in-a-half-shell will celebrate their 30th birthday in May (the original comic book debuted in 1984). So, in order to commemorate their adulthood, the series' creators Kevin Eastman and Peter Laird will release a collectible issue marking the milestone. 
The '80s cartoon ran from 1987 to 1996 on syndication, then on CBS. It inspired the original 'TMNT' movie trilogy from the 1990s, including the 1991 sequel, 'Teenage Mutant Ninja Turtles II: The Secret of the Ooze,' that featured the film debut of Vanilla Ice singing the terribly catchy theme song, "Go Ninja Go!" (which, in my opinion, is the sole blemish on their spotless legacy). 
'Teenage Mutant Ninja Turtles' airs at 7/6c on Nickelodeon.