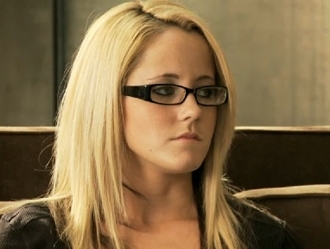 While Kim Kardashian and Kanye West prepare to unleash their spawn upon an unprepared Earth, let us not forget Kardashian's previous marriage - all 72 days of it. One of the star's on MTV's 'Teen Mom 2' might be attempting to one-up the queen of the becoming famous for no real reason (congratulations to Kim on the increased sales of her sex tape after announcing her pregnancy, though).
Jenelle Evans and her husband Courland Rogers have been married for less than 30 days but it appears the bell has fallen off of their bliss. Evans took to Twitter over the weekend, implying that she might be leaving her husband.
"Why would I come back "home" when u just threw my suitcase down the stairs and at yr own SISTER @courtyb11," she wrote, following that up with Tweets that accused Rogers of selling his father's cell phone for drugs and saying that "I need my best friend right now I can't stop crying."
Later in the day she said she was deleting her twitter account, but not before tweeting the profound though "Why do we fall in love so easy even when it's not right?"
Rogers went on the offensive on Twitter, writing to his wife to, "Come home to ur husband !!" Later, he wrote "Quit f---ing making this look like my fault let me love u jenelle like I always have and more."