Irony! The title is ironic, presumably, since we're supposed to have sympathy for Cruella. And the plot for the first three-quarters leads us to believe that we should. But then we find out that she's a sociopath. Of course, given that Cruella is a sociopath in the present, it should come as no surprise that she was one in the past as well. So the "surprise" wasn't really that surprising.
Victoria Smurfit does what she can playign a teenaged version of herself. There's nothing wrong with her performance. And she does subtlety manage to convey the impression that she's in over her head. Cruella is basically a pawn in Gold's game to turn Emma into a killer. There's still the question of how she met Gold, so they could bring Smurfit back for a flashback.
Otherwise, the episode was really all about Cruella. We do get a glimpse into Isaac's (The Author's) past. where he was traveling around realms collecting stories, falling in love, and handing ut superpowers. And the whole thing led up to Regina blackmailing Gold into letting her go to New York to deal with Zelena, after last week's reveal that Zelena is disguised as Marian. The makeup artists are turning jennifer Morrison into a zombie, apparently, to convey that she's turning to the dark side.
So if you want to know how Cruella became the person she is, in the movies and on the show, this is the episode for you.
----------

The Past

A young girl runs through the forest as a Dalmatian chases after her. She comes to another dog barring her path, and the first one arrives behind her. The girl's mother, Madeline, drives up and orders the dogs to heel, and then tells the girl to come home. The girl--Cruella--and Madeline threatens to sic the dogs with her. Cruella relents and Madeline says that now that Cruella's father is gone, they're going to make a few changes. Back at the manor, Madeline locks Cruella upstairs in a dusty old room and says that the girl will stay there until she learns to do what Madeline says.

Now

Cruella is driving through the countryside around Storybrooke, and brakes to a halt as Maleficent appears on the road in front of her. Maleficent demands to know about her daughter Lily, well aware that Cruella lied about her surviving the trip to the real world. Cruella admits that she and Ursula left Lily to die in the forest, and Maleficent promises to make her suffer. She transforms into a dragon but Cruella uses her magic to take control of her. She boasts that now that the Author is there, she's going to get what she really wants. Cruella commands Maleficent to go to sleep and drives away.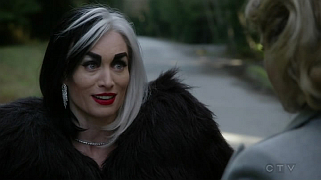 David, Mary Margaret, Emma, and Hook arrive home and Emma questions her parents about the Author. David insists that they've told her everything that they know, but Emma doesn't trust them. Regina comes in and tells them that she has to rescue Robin. She explains that Marian is Zelena in disguise, and in league with Gold. Regina plans to go to New York City to rescue Robin, and assures them that she knows how to handle Gold.

Later, Regina goes to the pawnshop and tells Belle that Gold wants her to work with him. Belle asks how she can help and Regina says that she's glad she asked.

Gold takes the Author to his cabin, and he introduces himself as Isaac. Gold shows Isaac the quill and says that he plans to obtain some ink for it very soon. He plans to turn the Savior dark, and then everything he needs will fall into place. Isaac notices Cruella's fur and says that he can't wait to meet Gold's associates, and says that he's looking forward to meeting them in person. Gold abruptly says that something has come up and teleports away.

Belle is at the Wishing Well calling Gold's name when he appears. He starts to apologize, but Belle demands the truth. She asks why he's there, and Gold removes his heart and reveals that it's a black withered husk with only a single glowing red light. He says that he will lose any ability to love when his heart dies for good, and Isaac is the only one who can reverse it. Gold puts his heart back and Belle says that she understands. She worries that she may have acted hastily, and Gold kisses her. However, Belle says that Will is a better kisser and tells Gold that he's pathetic. Regina steps out, holding Belle's heart, and tells her to forget what happened and go home. Once Belle leaves, Gold promises to make Regina suffer, but she promises to crush Belle's heart. He doesn't believe her and Regina starts to squeeze, and Gold hastily backs off. Regina says that she's going to New York City and if he says anything to Zelena than she'll destroy Belle's heart.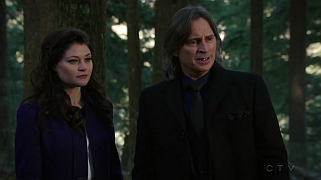 At the cabin, Isaac is reading when Cruella comes in. She greets him by name and demands that he give back what she took. Isaac says that he can't, and Cruella grabs him by the throat and promises to kill him. He says that she doesn't have enough power to hurt him, and Cruella releases him. She takes a gentler approach but Isaac refuses and Cruella promises to make him suffer for his making her what she is. Isaac points out that Gold doesn't know that they know each other, and figures that Cruella lied to him. He says that Cruella should leave before Gold returns. As she leaves, Cruella advises Isaac to be careful.

The Past

In her room, a now teenaged Cruella is going through glamour magazines and listening to the radio when Madeline storms in and accuses Cruella of stealing the radio the last time she let her out. Cruella says that she's bored and begs her step mother to let her out of the house. The dogs bark in the distance and Madeline goes to investigate, taking the radio with her.

Madeline answers the door and Isaac introduces himself as a newspaper writer. He's learned that Madeline is the best dog trainer in London and asks for two minutes. She reluctantly lets him in and Isaac explains that he's looking for stories with a bit of magic. He notices portraits of three husbands and asks for details, and Madeline snatches away his quill pen and notebook. She figures that Isaac has never been in love and throws his notebook outside, and tells him to write his own story for once. Cruella calls to Isaac from the window and says that she has a great story for him. However, she says that Isaac will have to release her first.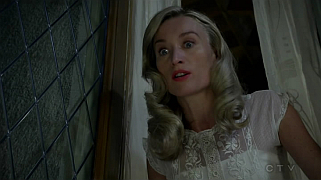 Now

Henry gets off the bus and notices Archie's dog Pongo. It runs off and Henry follows it into an alleyway. The Dalmatian starts growling, and Cruella pulls up and explains that the dog is under her control. She orders Henry to get in the car.

The Past

Later, Isaac tosses a pebble at Cruella's window. She opens it and finds a key on the sill, and uses it to release herself. Cruella sneaks through the grounds and finds Madeline's guard dog sleeping. Isaac is there and avoids her questions about how he got the key, and Cruella says that she'd prefer to go somewhere loud to tell Isaac her story. He shows her a car parked outside and says he can take her wherever they go.

Isaac takes Cruella to a club and she enjoys a martini and watches the dancers. She then explains that Madeline locked her up because she was afraid Cruella would tell everyone her secret: that Madeline poisoned Cruella's father. The band plays Cruella's favorite song and she invites Isaac to dance with her. After a moment he leaves his notebook on the table and then goes to dance, and admits that he spends too much time writing about life and not enough living it.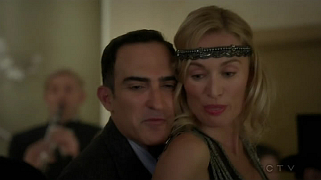 Now

As Regina packs to leave, Emma offers to go with her. Regina says that Emma needs to deal with Isaac, and Emma gives her a revolver for self-protection. She assures Regina that she doesn't hate her for keeping her parents' secrets. Emma and Regina both get a video message from Henry. He says that Cruella has him and Regina has to do what Cruella says. Cruella then tells them to kill Isaac and bring her his body, or Henry will die.

Gold returns to the cabin and tells Isaac that he knows he lied about his knowing Cruella. He says that Cruella has kidnapped the Savior's son and it's essential to his plans. Gold explains Cruella's threat, and notes that if Isaac dies then the mantle of Author would pass on to someone potentially less cooperative. He can manipulate Cruella and asks why Cruella wants Isaac dead. Isaac takes a letter from his pocket and tells Gold to read it. Once he does, Gold chuckles.

The Past

Cruella and Isaac continue dancing after everyone else leaves. She thanks him for giving her a memorable night, and Isaac says that he can make it even more memorable. He takes out his pen and explains that he travels across realms of storytelling. The London that they're in exists out of time, and Cruella admits that she doesn't know what year it is. Isaac says that is the point and many of the realms are magical. The pen and ink are enchanted with magic, and he can use them to change people's stories. He writes down a sentence and a necklace appears around Cruella's neck. When she isn't convinced, he causes a pair of earrings to appear as well. When Cruella reaches for the pen, Isaac warns her that there's no telling what could happen if the ink spilled. He offers to use his pen to whisk them away where Madeline can never find Cruella, and offers Cruella magic so she'll be safe no matter where she is. Isaac gives her the power to control any animal, and suggests that they drive away until they're far away. Cruella insists on confronting her mother in person and asks to meet Isaac later at his hotel, and he agrees. He gives her the keys to his car and Cruella gives him the paper back and leaves.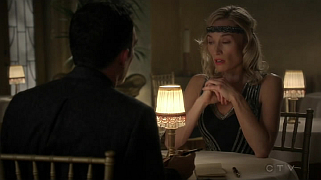 Now

Emma shows her parents the video and David recognizes the nearby trailhead marker. Regina is eager to kill Cruella, and Hook says that they need to know the terrain. David and Mary Margaret went back to the convent and found Isaac's flask, and suggest a locator spell could work on it. Emma plans to take Hook and Regina with her, and says that she needs to be around people she trusts... and right now that isn't her parents.

In the forest, Regina tells Emma to get over her anger at her parents. Emma doesn't agree, and when Hook speaks up, Emma points out that neither Hook nor Regina pretended to be heroes. Regina says that Mary Margaret once told her that she needed to believe she could earn forgiveness, and Mary Margaret is trying to do the same. Emma dismisses her advice, saying that she needs to worry about her son.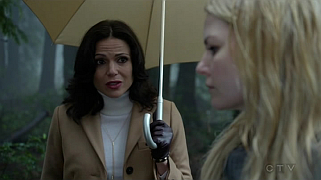 At Cruella's car, Pongo watches Henry while Cruella plays video games. Henry picks up a broken piece of glass from the road, cuts himself free, and walks off. Cruella orders Pongo to sic him, and the dog runs off.

The Past

Isaac is waiting at his hotel room when Madeline arrives with her Dalmatians. She demands to know where Cruella is, and Isaac says that thanks to Cruella he'll never go back. Madeline comes in and says that he should have gotten away from Cruella when she had a chance. When he says that he knows the truth about Madeline murdering her husbands, Madeline says that Cruella was the one who killed the three men. Isaac doesn't believe it, but Madeline says that Cruella was always a troubled girl. Her husband died of what seemed to be a heart attack, and she found Cruella smiling over the poisonous flowers from the garden. She couldn't turn her daughter over to the authorities, and she tried to fix her by keeping her close. Cruella poisoned her next two husbands as well. Isaac threatens to call the police, and Madeline warns him to stay away from Cruella because she destroys the things that people care about. Once she leaves, Isaac dismisses Madeline's claim as fiction. He opens his pen case but discovers that Cruella has taken the pen.

Madeline returns home and Cruella steps out. when the older woman orders her dogs to attack, Cruella laughs and takes control of them. They move to her side, and Cruella sends them to kill her mother.

Now

Henry runs through the woods, calling for help. Emma and the others hear him and they split up to find him. Regina and Hook discover that someone has planted sea shells echoing Henry's voice. Gold watches as they find them.

Henry comes to the edge of a crevasse and Pongo corners him. Cruella arrives and says that he shouldn't have run, and grabs him as Emma arrives. She threatens to shoot Henry if Emma comes any closer.

The Past

Cruella is sewing a new coat in her room when Isaac comes in. He asks where Madeline is, and Cruella says that she's dead thanks to Isaac. He looks for the dogs, and Cruella reveals that she's made a coat from their fur. Isaac is shocked that Cruella used him, and she readily admits that she did and she has always embraced the darkness. As she talks, Isaac sees his pen on the table and grabs for it. Cruella tries to grab it back and the ink spills on her. She staggers to her feet and Isaac realizes that her hair has turned partially black. He starts writing on a piece of paper, and Cruella picks up a gun and tries to shoot him. Nothing happens, and Isaac says that he's learned from her to take what a person loves and destroys it. he walks out as Cruella vows that she's not done.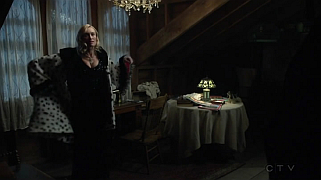 Now

David and Mary Margaret arrive at the cabin and assure Isaac that they just want answers. Mary Margaret asks him to trust her, but Isaac says that he's seen how they treat Emma. David grabs him and Isaac admits that he had no idea how Gold would end Cruella, and he didn't see the end of the story. Mary Margaret asks what he means, and Isaac says that the story ends with the Savior turning dark. He hands David a piece of paper and says that it's a truth that he wrote. Mary Margaret and David read the note, which says that Cruella can no longer take the life of another. Isaac says that Henry is in no danger, and Mary Margaret and David realize that Cruella is defenseless... and Gold wants Emma to kill him.

Emma tells Cruella to put the gun down, but she promises to kill Henry. When Emma's hands glow, Cruella reminds her that she's a hero and heroes don't kill. Emma blasts Cruella over the cliff and hugs Henry, just as Mary Margaret and David run up. As they look on in horror, Emma looks down at Cruella's broken body on the ground below.