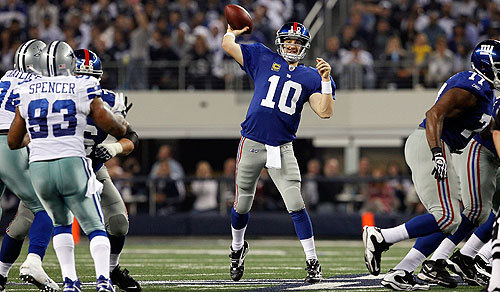 It's Monday, December 12th, and with it another round of Sunday night TV has come and gone, kicking off the big ratings scores for the week and propelling back into real life.  Some shows have already taken on their winter hiatus and others pre-empted by holiday events, sports and award ceremonies, but what took the biggest piece of the pie last night?
Did you watch the heartbreaking Boardwalk Empire finale, or were you more interested in who was winning the latest football game?  Was your heart broken by The Good Wife, or were you looking for something lighter like Charlie and the Chocolate Factory?  Maybe you were glued to The Amazing Race! 
We'll tell you what America was watching, and the big winner from last night's ratings might surprise you!
Football was all the rage for the evening as CBS' NFL overrun and 60 Minutes took the 18-49 leader and the biggest win for 7 o'clock PM with 17 million viewers, beating out NBC's Football Night in America's 9.85, and FOX's Football overrun with 9.4 million.  Trailing in last was ABC's America's Funniest Home Videos with 7.4 million, and FOX's The Cleveland Show rerun at 4.1.
NBC's Sunday Night Football dominated the 8pm slot with 20.45 million and the 18-49 leader, ahead of CBS' 60 Minutes and The Amazing Race finale at 13.7 million.  ABC's midseason finale of Once Upon A Time brought in 8.9 million viewers, while FOX kept things steady with The Simpsons and The Cleveland Show's  Die Hard parody "Die Semi-Hard, with 6.45 million, and 5 million respectively.
At 9pm, NBC's Sunday Night Football grew even more with 23.25 million, compared to CBS' The Amazing Race and The Good Wife at 11.1 million.  FOX's Family Guy and American Dad pairing took in 6.05  and 5 million, against ABC's presentation of Charlie and the Chocolate Factory's 3.7 million.
At 10, Sunday Night Football remained strong at 21 million viewers, against CBS' The Good Wife and CSI: Miami pairing 11.05 million, while ABC's Charlie and the Chocolate Factory held steady at 3.7 million.
What did you watch last night? Did your favorite shows earn the ratings they got? What will you be watching tonight? Sound off in the comments below with your favorites!