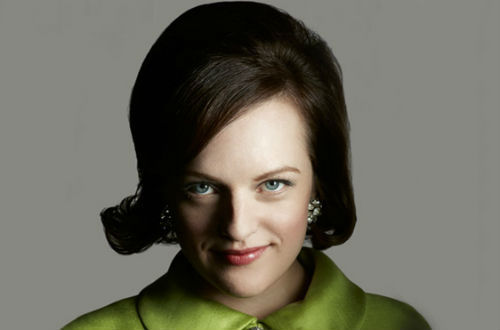 We all have one. That one TV character who you would totally kick it with if they were, well, real. I'm talking about the TV BFF. Our sitcom soulmate. Our cable series compadre. I happen to be a very choosy individual, so I can't just pick one TV BFF, hence the reason why I created this column in which I will break down the pros and cons of every TV character that I imagine would be the perfect pal to tell all my secrets to while sipping cocktails at our fave watering hole. That one person who could tell me that I have spinach stuck in my teeth, and I know she's doing it because she loves me and not because she's being a jerk.
This week's BFF: Peggy Olson. 
I've watched 'Mad Men' since the beginning, and over the last five seasons since the AMC drama has been on the air, it's become more and more obvious that Peggy Olson (Elisabeth Moss) is the real star of the show.
I know, I know: what about Don Draper (Jon Hamm)?
And, to that, I say: What about him?
More than any other character on the show, Peggy has grown and evolved the most – from meek secretary to kickass copywriter – and, as she's come into her own power, she's done so with a balls-to-the-wall confidence, humility, and a realism that most ambitious women can identify with, even in our current "Lean In" world.
Peggy's smart, strong, and she can hold her whiskey. Heck, I don't want to just be BFFs with her, I want to be her. But, I'll settle for friends first.
PROS
She's a Feminist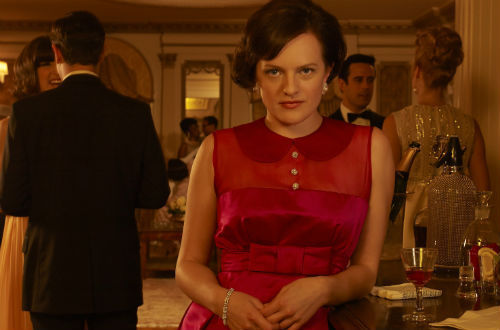 Before Sheryl Sandberg and Beyonce, Peggy was already leanin' in. She's navigating a world of glass ceilings and boys' club all with the kind of aplomb we would expect from a working woman in contemporary society. Peggy's not focused on family and settling down (that was pretty obvious when she gave up her illegitimate child and broke up with Abe), but, instead, she's focused on her job and doing the best work she can, and that's what makes her relatable, and awesome.
She's Ambitious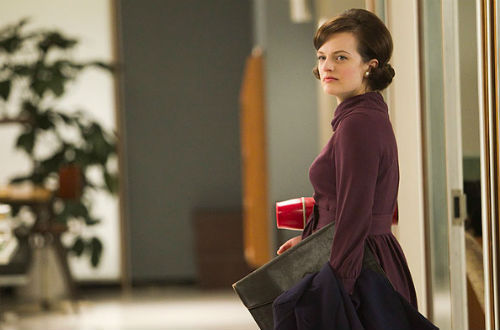 Sure, Don took a chance on his former secretary by making her the first "girl" to do any writing for the company, but it was Peggy's ambition that landed her to the top of the heap. From demanding a pay rise for her good work to insisting on her own office (and eventually getting one which she didn't have to share with the photocopier), Peggy continues to smash the glass ceiling, eventually becoming a copy chief and a head of her own division – all before she turned 30. Huzzah.
She's One of the Guys (Kind of)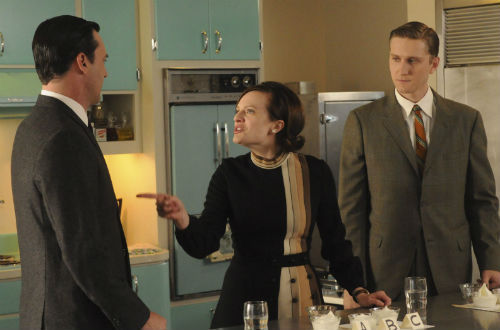 Peggy might not be apart of the boys' club (or ever be), but she can hold her whiskey. She didn't transform into the kind of woman that her mentor, Don, had first envisioned (she's "bossy", she doesn't wear sexy clothes or use her womanly wiles to get ahead), but there still exists a deep level of trust and respect between them (despite the odd shouting match). In fact, one could argue that Peggy is probably the only woman Don wouldn't dare sleep with, which actually exemplifies his high regard for her. Peggy might annoy the other male copywriters with her stubbornness, but they still dig her (and Stan's always got her back).
CONS
She's Got Questionable Taste in Men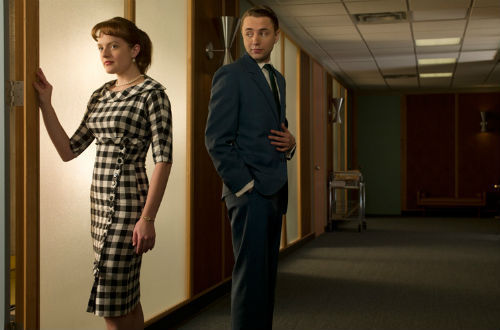 Peggy's personal life is far from ideal. She's fallen in love with her boss (who broke her heart in the most cowardly way possible). She's fallen into bed with a couple of schlubs (Abe, anyone?). She had affairs with a few co-workers, including a weird, tortuous one with Pete (which resulted in a illegit baby, who she seems to have just forgotten all about). She also flirted with bisexuality (with one of those girls from 'Girls'). To each their own, I guess, but Peggy's choices in men are nowhere near as smart as her business choices (though, thankfully, her personal life is not as destructive as Don's. But, really, whose is?).
She's Stubborn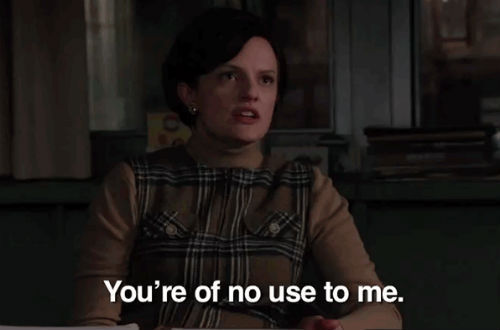 This might be the pot calling the kettle black, but, still, Peggy's stubbornness needs to be addressed. The thing is, Peggy isn't afraid to be unlikable. She takes things more seriously than her colleagues, and she often turns off her bosses and co-workers by sticking to her ideas and refusing to budge. This might work as a business tactic, but it wouldn't fly so much in friendship.
CONSENSUS:
Whether we're doing shots of Canadian Club in her office or at the local watering hole, I would most definitely be BFFs with Peggy Olson. If the shot of her sitting behind Don's desk was any indication, this woman is headed straight to the top, and I am onboard for the ride. 
'Mad Men' airs Sundays on AMC at 10/9c.