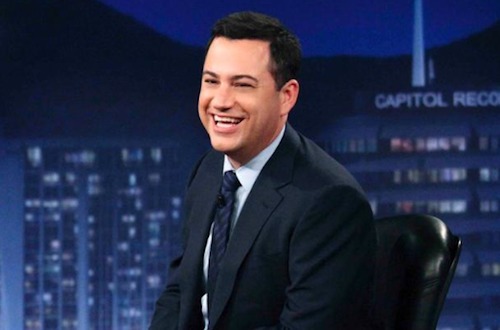 Other late-night hosts may be flying the coop, but Jimmy Kimmel doesn't plan on going anywhere anytime soon. How do we know for sure? The popular ABC host has just signed a new two-year contract extension with the network, which will keep him around at least through January 2017.
RELATED NEWS: Stephen Colbert to Replace David Letterman on 'The Late Show'
Kimmel is currently in his 11th season of 'Jimmy Kimmel Live!,' which was recently moved to the highly coveted 11:35 p.m. timeslot in January of last year, when it swapped spots with 'Nightline.' Since then, he's continued to gain viewership and is known for creating hilarious viral material, such as his annual Halloween candy prank and the popular star-studded 'Movie: The Movie' trailers.
The late-night landscape has clearly shifted over the past few months. In April, David Letterman announced his upcoming CBS 'Late Show' retirement, which was followed quickly by the network tapping Comedy Central's Stephen Colbert as his 2015 replacement. Add that to Craig Ferguson's pending departure as well as Jimmy Fallon taking up the 'Tonight Show' reigns from Jay Leno, and we're looking at practically a whole new hosting lineup.
RELATED NEWS: Craig Ferguson Stepping Down as 'The Late Late Show' Host
So, suffice to say, Kimmel's continued and stable presence in the late-night circuit is, at at the very least, reassuring. And with 'Tonight moving back to New York City, Kimmel will only have TBS' Conan O'Brien to compete with for guests out west. Not a bad deal.
'Jimmy Kimmel Live!' airs weekdays at 11:35/10:35c on ABC.