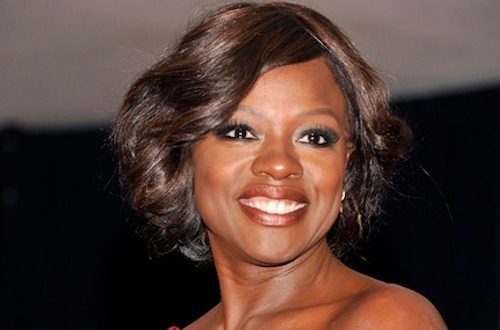 Today, ABC announced it will be adding five nine 10 more new series to its 2014-15 lineup, including 'How to Get Away With Murder' from Shonda Rhimes and the alien invasion drama 'The Whispers.' The full list is as follows.
'How to Get Away With Murder'
The drama stars Oscar-nominee Viola Davis as a brilliant, mysterious criminal defense professor, who gets wrapped up in a murder plot, alongside her group of ambitious law students. It also features Liza Weil, Aja Naomi King, Billy Brown, Tom Verica, among others.
RELATED NEWS: ABC Renews 'Once Upon a Time,' 'Resurrection,' 'Castle,' 'Grey's,' 'Scandal' & 'Revenge'
'The Whispers' 
It hails from Steven Spielberg and stars 'Revenge's Barry Sloane, 'Heroes' Milo Ventimiglia, 'American Horror Story's Lily Rabe and 'Devious Maids' Brianna Brown. The drama tells the story of an alien invasion and the out of this world threat possessing children to take down humanity.
'American Crime'
Starring Felicity Huffman and Timothy Hutton, the drama focuses on a racially charged murder and the subsequent trial, all while examining the personal lives of the players involved and bringing America's hardened views on race, class and gender politics to the forefront.
'Black-ish'
A comedy with Anthony Anderson, who also serves as exec-producer, depicts an upper-middle class black man struggling to raise his children with a sense of cultural identity.
'Galavant'
The comedy starring Joshua Sasse and Vinnie Jones, is said to be a "musical fairy tale" centering on Prince Galavant and his quest for revenge over the king who stole his one true love.
'Marvel's Agent Carter'
Starring Hayley Atwell as 'Captain America's Peggy Carter, the drama set in 1946 showcases Carter going on secret missions for Howard Stark, all while adjusting to losing the love of her life.
RELATED NEWS: ABC's Alien Drama Pilot Now Titled 'The Whispers'
'Manhattan Love Story'
A romantic comedy with Analeigh Tipton and Jake McDorman that "exposes the differences between men and women through the unfiltered thoughts, and often contradictory actions, of a new couple who have just begun dating."
'Forever'
With Ioan Gruffud and Judd Hirsch, the series tells the story of Dr. Henry Morgan as New York City's star medical examiner who also just happens to be immortal.
'Selfie'
The comedy stars Karen Gillan as Eliza Dooley, a self-obsessed twentysomething woman who is more concerned with "likes" than being liked. After suffering a public and embarrassing breakup, which goes viral, she hires a marketing expert to repair her image.
'Secrets and Lies'
Starring Ryan Phillippe and Juliette Lewis, this drama follows Phillippe's character who becomes the prime suspect in the murder of a young boy when he finds the body. 
'Fresh Off the Boat' 
From Nahnatchka Kahn ('Don't Trust the B—- in Apartment 23') and starring Constance Wu and Hudson Yang, the comedy tells the story of hip hop living Eddie growing up in '90s suburban Orlando. He's raised by an immigrant father who is obsessed with all things American and an immigrant mother who is often bewildered by white culture. With his father owning and operating an All-American Steakhouse chain, this loving family of FOB ("fresh off the boat") Taiwanese Americans try to live the American dream while still maintaining their cultural identity and sense of family.
'Cristela'
Starring Cristela Alonzo, the comedy focuses on sixth-year law student Cristela, as she pushes herself towards her ambitious legal dreams — often against her traditional Mexican-American family's wishes.