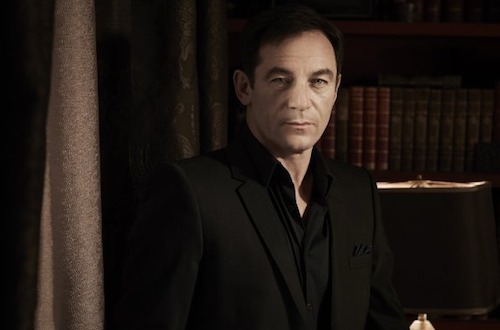 Satanic covens. Devil worship. Demonic rituals. These are just a few of the many pastimes Jason Isaacs has had to take up during his portrayal of coven leader, Roman Castevet, in the NBC adaptation of the iconic horror film 'Rosemary's Baby.'
Of course, the actor is no stranger to taking on villainous roles (we're looking at you, Lucius Malfoy), but we doubt even the magical world of 'Harry Potter' could have prepared Isaacs for the horrors that spawned (sorry, I had to) from this particular project.
TVRage, along with several other reporters, had the chance to chat with Isaacs about the highly anticipated, four-hour miniseries as well as what drew him to this sinfully evil role.
"I think one of the things that attracted me to this is that it is so different from the original story," Isaacs remarks. "Whereas Roman and Minnie in the Polanski film are these rather harmless and sweet old couple, Carole [Bouquet] and I tap into the worst elements and neurosis and egomania [of these characters]…we've accumulated such wealth and power and clout in French society and high society that you can't help but be near us and be intimidated."
RELATED NEWS: NBC Sets May Dates for 'Rosemary's Baby' Miniseries
Isaacs admits that he normally looks to find some sort of relatable quality to each character he plays. But taking this role called for something completely different.
"Every now and again it's nice to throw that all out of the window and just lick your lips and be deliciously, confidently evil. And the nice thing about Roman is that everything is going his way. He has all the power in the world."
And with great power comes great responsibility amounts of terror. (Or something like that.) While the 1968 film version left many things open-ended for audience interpretation (was it all just in Rosemary's head?), Isaacs assures us that will not be the case in this rather horror-heavy story.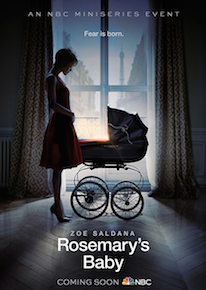 "Stuff happens," he teases. "It's more a case of 'get out — the calls are coming from within the house!' And so it's a lot gorier and nastier and creepier and more horrific, I think. It's more flat out-and-out horror, certainly in the second night."
So just how scary do things get? "Let me just say there will be blood and lots of it…we absolutely push it to the limit." He jokingly adds: "A substantial portion of the budget went on croissants and the rest went on blood."
And while much of the horror that is to come can be blamed on Rosemary's husband, Guy Woodhouse (Patrick J. Adams) — who quite literally makes a deal with the devil — Isaacs' Roman is the one who makes it all possible, tempting his neighbor with the lavish lifestyle he can provide.
"This is a reward that seems worth it to Guy," Isaacs explains about Guy's willingness to hand over his baby to devil worshippers. "That's why we pick him. There's a current of narcissism that runs deep in him. Deep enough that I can tap into it."
Like with any other gig, Isaacs faced his fair share of challenges with the role. However, it's not for the reasons you may think. It wasn't the evil villain part that had him stumped — as I've mentioned, he's highly adept at playing the bad guy — but rather the fact that he had to play the actual victor.
"For Margaux and Roman, they are the 'it' crowd. So for me to imagine myself being the 'it' guy was a huge stretch of the imagination because I experience myself as the very opposite," Isaacs admits. "I very rarely play the winner as it were, and he's such a winner, Roman. That was a challenge for me."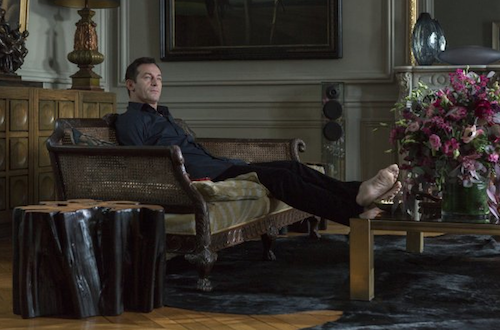 RELATED NEWS: NBC Pushes Out New Teaser for 'Rosemary's Baby' Miniseries
But Roman isn't charming ALL the time. In fact, one of Isaacs favorite scenes involves his character finally showing his true, evil colors.
"On the second night, Roman's mask slips," Isaacs tells TVRage. "Once Guy is in and he can't get out, I don't have to be so charming anymore. There's something about Roman's smile that is so fake and so transparently wafer thin that I like it when he drops the smile."
But, according to Isaacs, that's what makes the concept of evil so alluring in the first place. "We are continually fascinated by other people or even creatures that are trying to do harm or trying to do bad because it's the antithesis of the human experience, and yet it's somewhere inside all of us. It beguiles us to let all that go and be the very worst versions of ourselves."
So what makes this project standout from the book and 1968 film? Isaacs claims it's the best of both worlds. "This is a story that works. It worked once in a great film in the '60s, it worked once in a phenomenal book in the '60s, and the writers of this have cherry-picked the best elements of both and reinvented it for today. And hopefully it will work again. We'll see."
'Rosemary's Baby' will air in two installments on Sunday, May 11 and Thursday, May 15 at 9/8c on NBC.