(left to right: Muscleman, Frantic, Hotwire, Sumo, Concierge, Gadget Gal, Impresario, Prock)
Tired of waiting for 'The Venture Brothers' so you can get your fix of superhero cartoon comedy? Can't wait for Seth Meyers until the Emmys and the next episode of his talk show?
Then check out 'The Awesomes', a Hulu original series that just started up Season 2 on Monday, August 4. It will continue to be released each Monday on Hulu except for Labor Day, for the ten-episode run of season 2.
The idea behind 'The Awesomes' is that the world's greatest hero in a world of superheroes, the Superman-like Mr. Awesome, has decided to retire. His only son, Prock, wants to lead the Awesomes, his father's team of superheroes. The problem is, he's always been a disappointment to his father because of his lack of a useful and safe super-power. And no one wants to remain with the Awesomes once Mr. Awesome leaves the planet. Despite that, Prock and his friend Muscleman decided to keep the team going. They need seven members to receive government funding, so they have to recruit the superheroes that other teams overlook.
The members of the Awesomes are: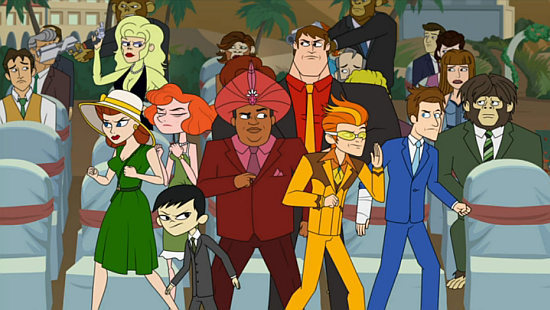 Prock: The leader of the Awesomes, Prock has a genius IQ and one superpower: he can stop time for up to one minute at a time. Doctors have told him that continual use of his powers will kill him. Despite that, Prock uses his powers to save his teammates on occasion or take a timeout when he needs to work out a plan.
Muscleman: The son of Muscleman, a superhero of the 70s, Muscleman is incredibly strong but much of his brainpower seems to be dedicated to handling his muscles so he doesn't have much left for actual thinking. Dimwitted but loyal.
Frantic: The third fastest man alive, Frantic was raised by circus carnies and spent most of his childhood in a cardboard box. As a result, he's what his teammates charitably consider "batshit insane." Despite that, he's good in a fight and loyal to his teammates. Just easily distracted.
Impresario: Like Green Lantern, Impresario can create constructs (purple instead of green) with the power of his mind. Unfortunately, since he was raised by a domineering mother, everything he creates has her face and voice.
Sumo: When ten-year-old Tim loses control of his emotions, he transforms into the hulking Sumo. Sumo is stronger than Muscleman but even less intelligent, but can follow orders and help his friends.
Gadget Gal: A member of the Awesomes during the 1940s, Gadget Girl was rejuvenated by an anti-aging beam and has gone back into crimefighting. She can create weapons out of anything in her purse, but has a 1940s mindset which means she tends to be old-fashioned and racist.
Concierge: The team's coordinator and secretary, a former beauty pageant coordinator. She eventually grows into her own, leading the Awesomes in Prock's absence, and is made a full-time member in Season 2.
Hotwire: During Season 1, a girl with electrical powers. It eventually turns out that she is the daughter of Mr. Awesome's mortal enemy, Dr. Malocchio. Which brings us to...
Dr. Malocchio: The world's premiere super-villain, a super-genius and mind control powers. Only Mr. Awesome and Prock are immune to his mental influence. After Mr. Awesome left Earth, Malocchio grew bored with staying in prison and set out to conquer the world.
There is also a cast of other superheroes, including Black Irish (a Batman parody); Perfect Man (another Superman parody, with some Booster Gold tossed in); hordes of supervillains like Gopher King, The Wombat, Tom Boy and the Bowling League, The Animal Kingdom, The Three Dopes, and Bird Master; and evil parallel-universe versions of the Awesomes.
In season 1, the running story arc is that a seemingly reformed Malocchio convinces the public and most superheroes that everyone should give up their superpowers to make the world a safer place. Once they do, his superpowered minions conquer the U.S. Only the Awesomes manage to withstand and eventually defeat him. Hotwire, his daughter, is reluctantly serving as his mole in the Awesomes but turns against him. Both her and her father are seemingly killed. Prock, who was in love with her, was heartbroken.
That brings us to the current season 2. So far, Malocchio is still dead but has left a vial of his super-serum to his son Giuseppe. Hotwire is actually alive and disguising herself as Metal Fella, an Iron Man-like vigilante who is trying to stay close to Prock in the hopes that she can eventually tell him how she feels. And Malocchio may not be as dead as everyone believes.
Of course, this all sounds mostly serious. In reality, the show riffs on comic books, TV reality and talk shows, movies (Black Irish sounds like Christian Bales and needs throat lozenges), and the general klutziness of all of the heroes. Malocchio monologues like Syndrome in 'The Incredibles', and the Animal Kingdom are cute fluffy animals that swear like Klingons. If there's a superhero cliche to be found, creators Seth Meyers and Michael Shoemaker ('Late Night With Jimmy Fallon') will mock it.
The Awesomes also have to put up with daily irritations like attending a marriage, judging a beauty pageant, dealing with government bureaucracy, and clear Muscleman in a paternity suit filed by an alien. Of course, since they're superheroes, there's typically some fiendish villain lurking in the background.
Seth Meyers plays Prock, and other voice talents include Kenan Thompson, Bill Hader, Rashida Jones, and a bunch of people you've probably never heard of but who have been around in minor parts on dozens of shows.
Hulu debuts new episodes on Monday mornings, and has all of the repeats on tap. So tune in some time and check it out!