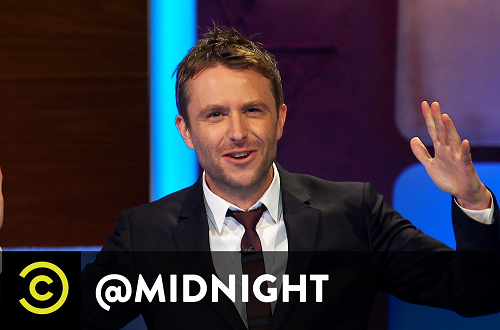 Last night on 'The Tonight Show Starring Jimmy Fallon' Chris Hardwick made the exciting announcement that his late-night pop culture game show has been renewed for a second season. '@Midnight,' airing on Comedy Central, welcomes three comedians onto a panel where they then compete in pop culture challenges such as "#HashtagWars" and "Rapid Refresh." The first season welcomed comedians like Judd Apatow, Kristen Schaal, Weird Al Yankovic, Michael Ian Black, Will Ferrell, Seth Green and Will Sasso.
Hardwick executive produces the episode himself alongside Thomas Lennon, Robert Ben Garant, Mike Farah, Alex Blagg, Jason Nadler and Jon Zimelis. '@Midnight' was nominated for an Emmy for outstanding interactive program this year and is what Hardwick describes as a "dream come true."
"@Midnight has been an absolute dream come true for me — a game show of Internet jokes with my comedian friends," Hardwick says. "I cannot thank Comedy Central enough for letting us continue. If they hadn't, you can damn well bet that I would have forced people to come over to my house to play it anyway, for no audience, so everyone is thankful we dodged that bullet."
Season two will be returning to television in 2015 for another 40-week run.