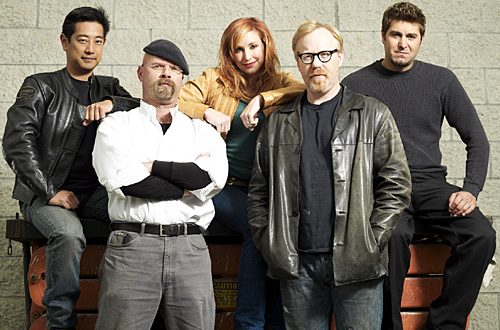 The experiment was being conducted by the trio of side kicks;
Tory Bellici, Kari Byron, and Grant Imahara. They were testing if a medieval cannon could have busted through a castle wall. Instead they busted through the home of Hitha Shetty.
Adam Savage took to Twitter to confirm the story and apologize. Savage and co-host Jamie Hyneman took responsibility for the accident and toured the Shetty home to access the damage. Both were concerned about the incident and took a meeting to discuss measures to prevent such accidents in the future. The Myth Busters crew is very concerned over what happened.
How serious are they about this? Myth Busters has promised not to use the filmed footage. This is a refreshing take from the usual fare. The current TV landscape is strewn with reality shows that promise to show us every embarrassing moment. Take MTV 's descion to show footage of housemate Snooki being punched in the face during a brawl. This may have launched the popularity of the series, but was it going to far?
Some speculated that the Myth Busters misfire could be the end of the show. Savage has said there are no issues moving forward and they are continuing to tape the current season. We can look forward to more seasons of this popular show, albeit with more concentration on proper safety measures. The extraordinary thing about this is that so few of the accidents on the show have lead to any dire consequences. Injuries may be a common result, but no participant has sustained life threatening injuries.