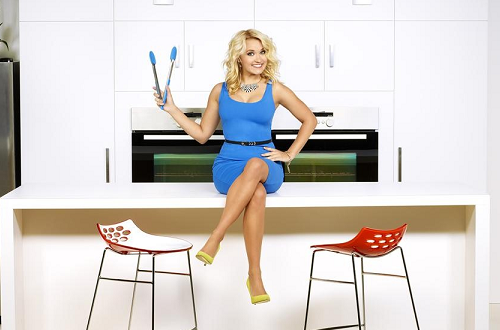 Emily Osment is one of those young actresses that you wish was your best friend in real life. She is smart, witty, hilarious and completely relatable. In her new ABC Family series, 'Young & Hungry,' Osment plays a food blogger who is hired by a young, wealthy, professional to be his personal chef. I caught up with Osment yesterday to talk about her character, Gabi's, complicated relationship with Josh, her on-set fashion, and more.
TVRage: So many 'Young & Hungry' fans would love to see Gabi and Josh together, they have such great chemistry. Do you think they are destined to stay one of those "will they, won't they" couples?
Emily Osment: I think a lot of the "will they, won't they" is a decision that was made by the writers, and I feel like it was a really smart choice. If you give the audience what they want right in the first few episodes, where do you have to go from there? The fun part, as we all know, of dating is the "will we or won't we" and being confused and wondering if he likes you. That is the best part of dating, and so I feel like that is also the best part of viewing it. You are confused, and you want to see what happens, and there is so much mystery in it. They have so much chemistry and they really are such good friends that I feel like it is sort of inevitable, we just don't know when. Hopefully over the next couple of seasons, if we are allowed to do more seasons of this, which I would adore. We could explore Gabi getting up to the maturity level of Josh, because he is very successful and a little bit older than her. If we wait a couple of years, and she matures a little bit, they will be on the same playing field. That would be more interesting to see!
TVRage: That makes a lot of sense, about them having such different maturity levels. It is easy to see it from the point of view that Caroline is so difficult to like, and Gabi is so loveable, that you just want her to be happy.
Osment: (laughs) It's true, it is a little bit hard to like Caroline. Mallory Jansen does such a good job of playing such an evil character. It is funny because she is literally the sweetest person you have ever met in your life. She is an Australian model and she is also nice, that never happens! (laughs) Someone that beautiful should never be that nice, it is amazing to me.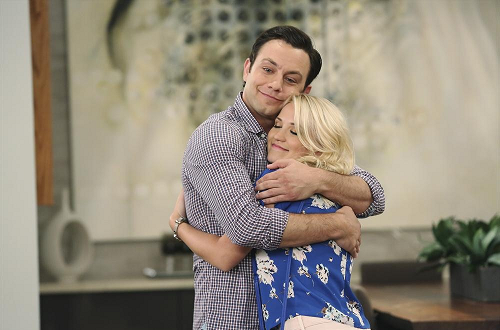 TVRage: We spoke with Jonathan Sadowski earlier this week and he was defending Caroline, saying that she does have some redeeming qualities.
Osment: Oh, Jonathan, no she doesn't! Caroline is cold-hearted to the core! She was raised knowing nothing but money, and if you raise a child knowing nothing but money you are going to get somebody like Caroline. Of course there is something that you love about her, but it is almost funny to try and find those redeeming qualities because they are usually very few and far between.
TVRage: Josh and Gabi have such great chemistry on the show, do you and Jonathan Sadowski get along as well on set as you do on camera?
Osment: Absolutely! When you are playing a character that has feelings for another character you have to be friends. You have to be friends to the point where anything they may write is comfortable for you. We spend every day together on set so you have to be good friends.
TVRage: Gabi's fashion on the show is one of my favourite things to see each episode. Do you get a say in what Gabi wears?
Osment: I do, to an extent. Jessica Replasnky is our costume designer and some of the core of Gabi's show is always based on the fact that she shops on a budget and doesn't have any money. A lot of the time people assume that all of the clothes are designer and we have all of this time to go and get the clothes at Barney's. However a lot of the time Jessica will just go to Forever 21 or H&M. So many of the clothes are super affordable and you could find them in real life. I have gotten a lot of mentions on Twitter from fans telling me they just bought a dress they saw me wearing on the show. It makes sense because Jessica shops on a budget just like Gabi. All of her clothes are a conglomerate of whatever she has been wearing over the past few years. It can be interesting though, Gabi wears heels all the time, and kind of dresses provocatively for work. That is just her style though, she doesn't know any better.
TVRage: It really makes her relatable. People watching the show are not watching and thinking, "That is a Vera Wang gown, something I could never afford," and instead are thinking, "I can go and get that at Forever 21!"
Osment: That is all in the brilliant design of the characters. We want to make this girl as relatable as possible for the people watching, because why would you want to watch a show about something that you can't connect to at all?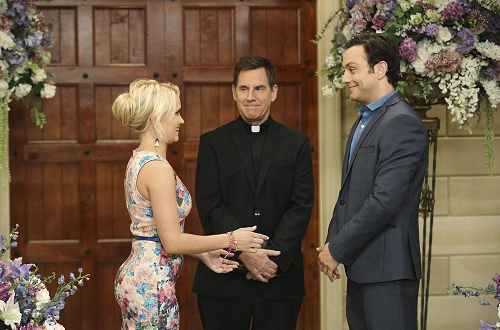 TVRage: Do you like to cook very much yourself? Do you actually eat any of the food that Gabi makes on set?
Osment: We all eat all the food that Gabi makes on set. I should say the food that April makes on set, actually. April is the one who makes it all. We definitely have the extra job perk of going over to Craft Services and seeing gourmet food that was just in the scene you shot. It is great and it is terrible. I do cook myself a little bit. I was raised by southern parents who made dinner every single night. That definitely helped, and I learned a thing or two growing up, mostly about baking. I can cook though, I am self-sufficient and live alone so I can do it!
TVRage: The finale episode sounds very exciting. I know you are not allowed to give us any spoilers, but Gabi's sacrifice in allowing Caroline to take credit for something that was clearly hers will be interesting to watch.
Osment: You really get to see that Gabi is such a wonderful person through and through. She doesn't want Josh to be hurt so she takes the fall for somebody else so he will be happy. It just proves that they really do care about each other. It hurts Gabi that Josh is getting married to somebody else. The finale is so well written, it is so good that I cried reading the script, I can't wait for everybody to see it.
You can watch the finale episode of 'Young & Hungry' on Wednesday at 8pm on ABC Family. You can follow Emily Osment on Twitter at @EmilyOsment.