Earlier this week I had the chance to meet Elmo (Ryan Dillon) and Phoebe (Sarah Burgess) for an exclusive interview to talk about their new CBeebies show, 'The Furchester Hotel'. The Furchester Hotel is about a dysfunctional family of monsters who run a hotel. A problem occurs in each episode, and the gang must find a way to resolve it. The show features extended appearances from Elmo and Cookie Monster (David Rudman). The show introduces new characters such as hotel owners, Funella (Louise Gold) and her doting husband, Furgus (Andrew Spooner). The pair are also joined by their daughter, Phoebe (Sarah Burgess), a clever and helpful monster. 'The Furchester Hotel' premieres today (26th September) at 5:00pm on CBeebies.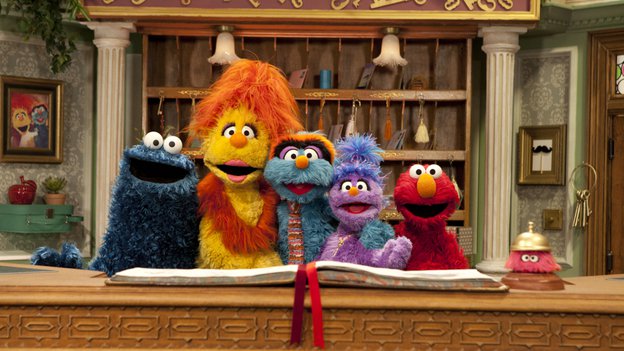 Phoebe, how would you describe yourself to our readers?
Phoebe: I am purple and I have blue hair. I am very useful and a helpful person. I am good at solving problems, I am fun-loving –
Elmo: I would agree with that, yeah.
Phoebe: I do lots of useful stuff at the hotel.
What is your favourite thing about each other?
Elmo: Boy that is a good question!
Phoebe: Well, we have so much fun together.
Elmo: But also, Phoebe is very smart, and Phoebe is very adaptable. Phoebe has taught me a lot, like how to make a bed, I had never made a bed before. Also taught me how to make toast, and to take it to the right person, at the right door.
Phoebe: Aw, that is so kind of you to say. Elmo is great. I never had any friends before Elmo came along.
Elmo: Well, you are a very busy girl.
Phoebe: Well, you know, there wasn't many young people at the hotel. Elmo is cool.
Elmo: It is great fun!
What storylines can we expect you to be involved in?
Elmo: Oh, there is a lot of fun things!
Phoebe: Yeah, that's right, I mean we had a porcupine who was too prickly for the guest
Elmo: We had some tortoises that were too slow.
Phoebe: We had a caterpillar who we had lost.
Elmo: Oh, that's right!
Phoebe: It turned out it had turned into a butterfly. Who'd thought!
Elmo: SPOILER ALERT.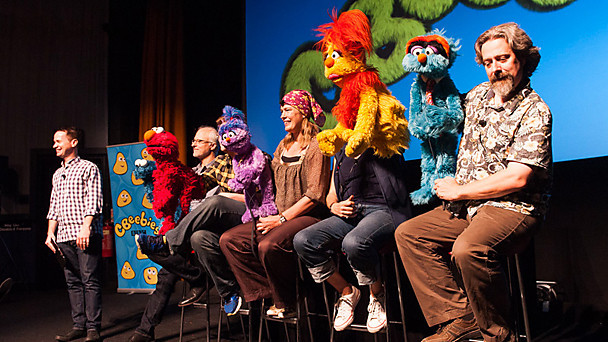 Which episode is your favourite?
Elmo: Oh boy, that's tough! Every day is new. It is a new adventure.
Phoebe: I love the toboggan.
Elmo: That is a really cool one!
Phoebe: We built us a toboggan. Running from the top floor hotel bed all the way down to the lobby. That was really good fun.
Elmo: Oh, yeah, that was cool.
What do you enjoy doing most around the hotel?
Phoebe: Well, I like to be making friends.
Elmo: Elmo, well, Elmo likes talking, yes. Sometimes, Elmo talks a little too long and then Phoebe and Aunt Funella will say shush.
What is your most hilarious moment at the hotel?
Phoebe: Oh, there are too many!
Elmo: How long have you got? (Phoebe and Elmo giggle) Well, always get into something.
Phoebe: Hilarity always ensues.
Elmo, do you miss anyone from Sesame Street?
Elmo misses his friends. Elmo left a little while then came back to Sesame Street. I saw them for three or four days. I will see them again soon.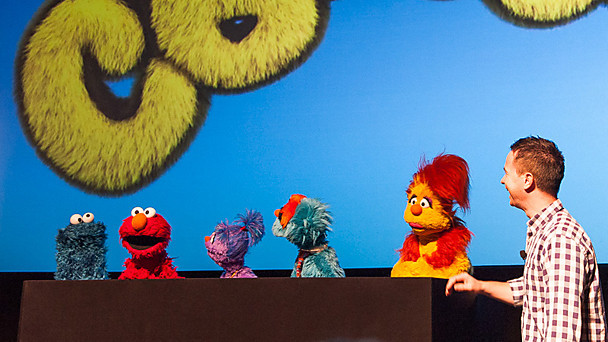 Have either of you watched any UK television yet?
Elmo: Boy, UK TV.
Phoebe: We don't really have TV in the hotel.
Elmo: Yeah, that's surprising, we've got to get on to that.
Phoebe: We have purchased a TV. We have to find it.
Have either of you been tempted to audition for the X-Factor?
Phoebe: Oh, I don't know what the X-Factor is!
It is like a talent show – a singing contest.
Phoebe: Oh, we have our own talent show in the hotel. It is pretty much the lamp-stand that always wins!
Elmo, have you enjoyed your extended stay in the UK?
Elmo: Oh, yes! I am loving London. It is one of my most favourite places in the whole wide world.
What is your most favourite place-
Elmo: Definitely Sesame Street
-in London?
Elmo: Oh, (laughs) I have enjoyed our trip to Leicester Square.
So, how has it been working with your family?
Elmo: Oh, it has been cool! Oh, you know, we didn't know each other until a while ago. It was really nice to meet extended family.
Phoebe: It has been great!
Elmo: So she has to buy me a Christmas card now!