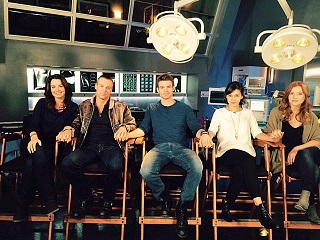 CTV have announced today that the stars of 'Saving Hope' will appear on a 'eTalk' special on Monday 13th of October. Tanya Kim will have a chance to interview stars of the show - Erica Durance, Michael Shanks, Daniel Gillies, Julia Taylor Ross, and Stacey Farber in the 30 minute special, on the set of the Canadian drama series.
Tanya said; "It's clear why Saving Hope has developed such a strong and loyal fan base that tunes in to this infectious series each week. The cast's chemistry is palpable and they had me in stitches on-set during the entire interview – such a fun group!"
The 'eTalk' special will air at 7.30pm, whilst new episodes of 'Saving Hope' continue every Thursday at 9pm.