Space, Temple Street Productions, and BBC America announced earlier today that production has begun on Season 3 of the critically-acclaimed original Canadian series, ORPHAN BLACK. Season 3 sees the return of the phenomenal, Golden Globe®-nominated Tatiana Maslany, who has portrayed an astonishing, nine, distinct "Leda" clones to date, as well as the male "Castor" clones revealed in the Season 2 finale, played by series regular Ari Millen. Season 2 of ORPHAN BLACKreached a total of 832,000 viewers and more than 3.7 million unique viewers each week. Throughout its Season 2 run, Space was the #1 specialty network in audience across all key demos in its timeslot. The 10-episode, one-hour drama shoots in Toronto, on location and in studio, until March 2015, and is set to premiere in Spring 2015.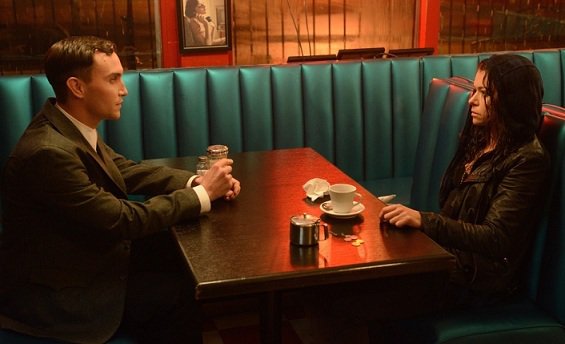 Tatiana Maslany and Ari Millen square off for an explosive new season
**Media Note** Photography for ORPHAN BLACK is available online at BellMediaPR.ca
"We can't wait to get back to work on ORPHAN BLACK with our wonderful partners Temple Street Productions and BBC America," said Corrie Coe, Senior Vice-President, Independent Production, Bell Media. "After the shocking finale of Season 2, we are excited to share with our viewers the next dramatic twists and turns in the clone conspiracy, as conceived by series creators Graeme Manson and John Fawcett."
"We are incredibly proud and delighted to be commencing production on Season 3 of ORPHAN BLACK," commented David Fortier and Ivan Schneeberg, executive producers of ORPHAN BLACK and Co-Presidents of Temple Street Productions.  "We've been fortunate to work with one of the best cast and crews in the business for the last two seasons.  We could not be happier about the success of the show, and how it continues to be embraced by audiences around the world."
"Season 2 of ORPHAN BLACK not only doubled its audience, it also treated fans to double the number of clones," said Perry Simon, General Manager, BBC AMERICA.  "Our network's commitment to creating long-lasting original programming that hooks viewers and never lets them go is perfectly illustrated through this buzz-worthy series."
Returning in a lead role is Ari Millen, who plays the newly discovered male clones; Mark, the Prolethean cult follower and Rudy, a prisoner of war. Also back this season is Jordan Gavaris as Sarah's fiery foster brother Felix; Dylan Bruce as Paul; an army officer working for secret forces in the clone world; Maria Doyle Kennedy as Sarah and Felix's duplicitous foster mother Mrs. S; Evelyne Brochu as a Dyad scientist and Cosima's lover Delphine; Kevin Hanchard as Art, a detective caught in the clone trap; Zoé De Grand Maison as Gracie, a Prolethean escapee, and Michiel Huisman as Cal, father to Sarah's daughter Kira (Skyler Wexler).
ORPHAN BLACK's second season brought new, more treacherous, enemies to light, culminating in a shocking finale with the reveal of the new male "Castor" clones. Season 3 plunges the clone sisterhood into unexpected territory with the realization that they're not alone. Just when they thought they knew their enemies and allies, Season 3 reveals our clones are more vulnerable than ever before with the highly trained, identical male-soldiers complicating matters. And though Sarah, Cosima, Alison and Helena realize they are stronger together than they are apart, this season will put that bond to the test.
Adored by fans and critics alike in more than 170 countries, ORPHAN BLACK earned a Peabody Award and an outstanding 10 Canadian Screen Awards in 2014. Lead actress Tatiana Maslany has received two, back-to-back Critics' Choice Awards for Best Actress, a TCA Award for Individual Achievement, a Young Hollywood Award, a Gracie Award, and nominations for both the Golden Globe® and People's Choice Awards.
The second season of ORPHAN BLACK is currently available on Blu-ray and DVD throughout Canada and is also available for purchase on iTunes. Viewers can also re-watch the Season 2 finale this Friday, Oct. 17 at 9 p.m. ET/PT on CTV Two.
ORPHAN BLACK is executive produced by Ivan Schneeberg and David Fortier (Being Erica), Graeme Manson (Cube, FLASHPOINT), and John Fawcett (SPARTACUS, GINGER SNAPS). The series is co-created by Manson and Fawcett, with Manson also serving as writer and Fawcett as director. BBC Worldwide distributes the series internationally.
ORPHAN BLACK is produced by Temple Street Productions in association with Space and BBC America. Production Executive is Gosia Kamela. Trish Williams is Director, Drama, Independent Production, Bell Media. Corrie Coe is Senior Vice-President, Independent Production, Bell Media. Tracey Pearce is Senior Vice-President, Specialty and Pay. Phil King is President, CTV, Sports, and Entertainment Programming.
Source: Numeris (Formerly BBM), Orphan Black air dates 4/19/2014 to 6/21/2014 Sat 9pm
BY13/14 8/26/2013 to 8/31/2014, Programs with 3+ airings excluding duplicates and marathons